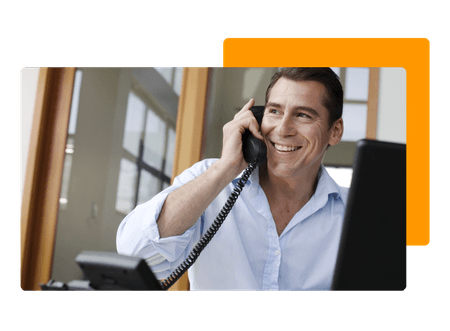 Business VoIP phone systems for property management
Whether you manage residential or commercial properties, successfully handling all of the day-to-day activities around real estate requires frequent communication. net2phone Canada delivers an all-in-one business communications solution, enabling Property Managers to seamlessly connect with tenants, owners, and contractors to expertly service their portfolio of properties.
Great communication leads to tenant retention
Finding the perfect property tenant can be a challenge, that's why prioritizing activities that lead to retention is critical. Tenants expect responsive, personalized service, especially when it comes to handling property complaints. Through net2phone Canada's reliable phone service, you can be accessible whenever problems arise and stay on top of your tenant's requests. Use custom greetings to proactively communicate with callers about building maintenance, and call routing tools to route tenants efficiently to their desired recipient. Connect your team across multiple sites through the net2phone Canada mobile app or browser-based calling feature, and move desk phones easily from one location to the next.

Stay connected

24

⁄

7
Never miss an important call from your tenants! Leverage net2phone Canada call queues to route callers to available staff in a predefined order, including team members that operate different buildings. If a call goes unanswered, your call history will provide you with the caller's information and send a transcribed voicemail message and .WAV file right to your email inbox. Easily connect with your tenants with accessible call logs shared across all of your communication devices.
Keep tenants informed
With a cloud-based phone system, you can create and alternate between custom greetings to notify your tenants about building maintenance, notices, and more. Use a digital receptionist to direct callers to specific departments or extensions and answer FAQs. With expertise from the net2phone Canada Provisioning Specialists, you can choose from our comprehensive suite of features to create a custom solution that best meets the unique needs of your callers.
All-in-one communications solution
Using our self-service web portal SONAR, your team has the ability to manage their own settings such as answering rules, voicemail, call forwarding, and simultaneous ring. With various communication mediums to choose from, including their desk phone, Mobile App, Softphone, SMS messaging, and Huddle video conferencing, your property management team is empowered with all of the tools they need to successfully collaborate.
Scale and connect multiple locations with ease
net2phone Canada offers advanced flexibility, allowing you to take your solution with you as you move and grow. Access your client portal, call data, and communications tools from anywhere you have an internet connection, and take your desk phone with you to the multiple properties you manage.
Residential property management
The tenants in your building likely have similar questions, and will all be impacted by the same maintenance updates. An automated phone solution is an effective way to communicate building-related information such as which facilities are available, office hours, and special notices to the masses. With automatic information capturing in your SONAR client portal, your tenant's information is securely stored for easy organization and access.
Commercial property management
Your commercial property tenants need the right space to focus on their operations, that's why repairs and maintenance issues must be immediately addressed. Leverage net2phone Canada's reliable phone system to offer emergency support to keep your tenants' office, retail, or warehouse space operating at full capacity. Quickly connect with and transfer calls to electricians, repairmen, parking managers, or anybody you need to get the job done.
Features for property management
Inclusive Pricing
Get access to an ever-evolving suite of innovative features & unparalleled support with all-inclusive plans & pricing.
Easy to Use Portal
Call, chat, track, and easily update features through our online administrator and user portals.
Mobile App
Take your business phone extension with you, with the same features you have on your desk phone, on-the-go.
Auto Attendant
From Tenant and Rental Sales to Rental maintenance, an auto attendant will give your tenants an easy way to reach your multidisciplinary team.

Time of Day Rules
Automatically implement different call routing based on the time of day. Sales may work from 9am to 5pm while rental maintenance always has someone available for emergency support.
Huddle Video Conferencing
Interview tenants face-to-face or give virtual tours of a property through Huddle Video Conferencing, available on your browser or through the iOS and Android mobile apps.
Attendant Console
Easily manage and transfer your high volume of calls with a drag and drop interface to connect your tenant to any extension.

Call Queues
Create a round robin system to distribute incoming calls to available agents, or ring every available line for the fastest answering option.
Integrations
Integrations with popular CRMs like Salesforce, Zoho, and Zendesk make it easy to make and take calls right from the tools you use most often.
Pricing customized for your business
Request a demo or get a personalized quote