Call. Message. Meet. All In One Phone System.
net2phone Canada's business VoIP service goes far beyond a dial tone. We deliver a continuously evolving suite of features, integrations, and hardware, unifying your business communications in one easy-to-use platform.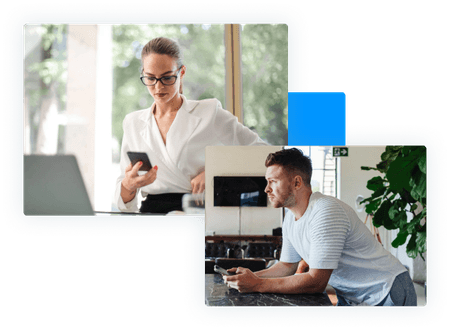 What is business VoIP?
Voice over Internet Protocol (VoIP) is a technology that delivers voice communication through your internet connection. In bypassing traditional phone lines, your business phone system is guaranteed to have more flexibility, functionality, and access to modern voice technology. With a hosted system, your business information is stored securely in the cloud.
Trusted by Canadian Businesses





Why net2phone Canada?
Less time on hold, more business success
Customer success isn't just a marketing term we throw around. It's at the core of everything we do at net2phone Canada. We take a customer-centric approach from the initial needs assessment through to onboarding and retention. From our Canadian-based phone support team to your dedicated Customer Success Managers, you are supported by a network of cloud-based phone experts that will work towards your success.
Less distractions with products you don't need, more inclusive features
net2phone Canada chooses to exclusively focus on delivering cloud-based phone solutions, products and integrations that support the busy professional. We are not distracted by a myriad of consumer offerings or unrelated business products. We are not in the business of upselling. Our focus and core competency is to deliver the highest-quality and most innovative VoIP products and services.
Less dropped calls, more transparency
The net2phone Canada TRUST initiative provides on-demand real-time public insight into current and historical system status. One of our core strengths and keys to maintaining strong trusted customer relationships is being open and transparent about uptime, downtime, and any issues affecting our user base. Our proactive notifications and real-time updates on trust.net2phone.ca are always up to date, providing the latest information on our service levels.
Less conglomerates, more community-focused
It's important for us to give back to the communities that invest in us! As part of our commitment to the 1-1-1 initiative of corporate philanthropy, we have pledged 1% of our equity, 1% of our time, and 1% of our services to charitable endeavours. Through this initiative we have been able to support nonprofits across Canada like the Sandra Schmirler Foundation, Startup Canada, the Ottawa Food Bank, and more.
Discover the net2phone Canada difference
Request a demo or get a personalized quote