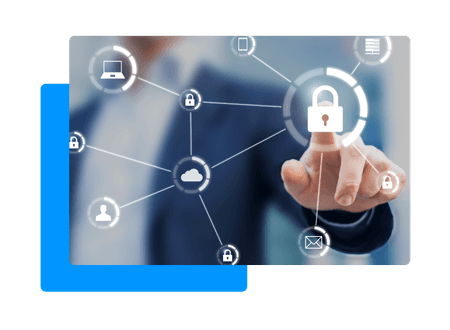 Security
&

data sovereignty

net2phone Canada prides itself in delivering advanced business functionality in a secure environment for organizations of all sizes. Our team of experts are dedicated to protecting your organization's calls and communications through secure hardware provisioning, geographically redundant data centres and industry-leading encryption technology.
Provisioning
While provisioning and equipping a client's phone system, net2phone Canada's Onboarding Specialists implement multiple security measures to protect from fraudulent activity and phishing attacks including:
All communications with net2phone's provisioning systems are performed over encrypted (HTTPS) to guarantee secure communication of access credentials and other information.

net2phone disables the common URL access methods used by most phone vendors and uses password protected configuration access over HTTPS.
Data centre facilities
net2phone's cloud-based business phone service is hosted in multiple Canadian data centres to provide geo-redundancy, call failover, and high availability. Each facility is virtually and physically secure, protected by connections to multiple power grids, backup power generators, redundant internet connections, environmental controls and security personnel.
Transparency
net2phone Canada offers clients full transparency by publicly displaying both real-time and years of historical system status updates. net2phone Canada also allows for anyone to sign up and receive live notifications of not only upcoming maintenance but also system or feature disruptions through the TRUST initiative, the only one of its kind in the industry.
Phone
&

data network

net2phone Canada's network perimeter permits network access strictly through secure, encrypted channels. Production networks are separated from development environments as an extra layer of security. Additionally, resource limits are placed at multiple levels so if there were a security breach, the impact of such a breach would be limited. net2phone Canada's services are monitored 24/7 to detect and limit fraudulent activity.
Platform
Access to the net2phone Canada administrator portals requires multi-factor authentication and the use of a secure browser.
Data transport
net2phone Canada can provide Transport Layer Security (TLS) and Secure Real-Time Transport Protocol (SRTP) encryption technology with our net2phone Secure addon. This renders transmitted calls unreadable by any unauthorized person. These cryptographic protocols are designed to provide communications security through public networks. When secured by TLS and SRTP, unauthorized personnel are prevented from intercepting transmissions and data. This layer of protection is required for any business that needs to be PCI-compliant
Data sovereignty
Depending on the nature of your organization, your organization may be subject to industry-specific laws and regulations. These regulations may require all data to be stored in Canadian facilities. All of net2phone Canada's points of presence lay within Canadian data centres, and when using 3rd party cloud infrastructure providers for specific services, we only operate within their Canadian facilities whenever possible, ensuring your organization remains compliant.

Discover the net2phone Canada difference
Request a demo or get a personalized quote