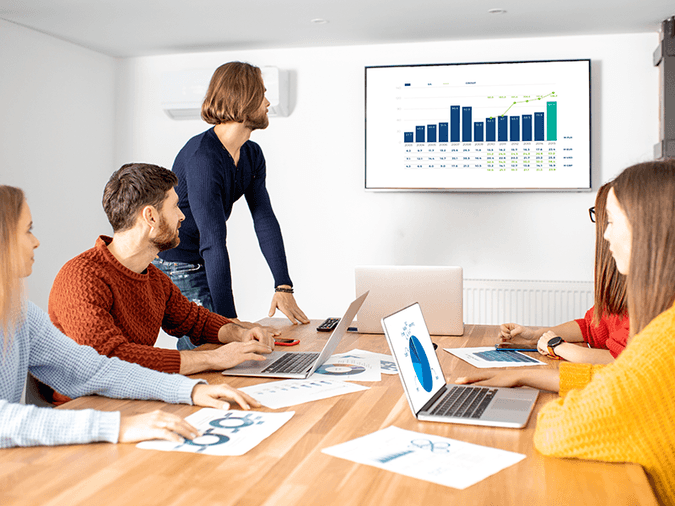 The Best Questions To Help Start Your Call Data Analysis
If your phone system is important to how you do business, analyzing your call data is the best way to get an edge over your competitors. We've compiled a list of the best questions to help you start dissecting your data.
If you're looking for a way to get an edge over your competitors, there is no better way than to start sifting through your call data to see where improvements could be made for next quarter.
But where do you begin? Don't fall into analysis paralysis, consider these 6 questions to get you started!
Question #1: How many calls are being made?
Noticing that your sales team hasn't been meeting their targets? Pull the total number of calls and monitor how many outbound calls are actually being made.
Throw the data into leaderboards and motivate your team by creating a fun competition to see who can reach the most clients in a given time.
Question #2: How much time is spent on calls?
The average call time (or average handle time) is commonly used as a key performance indicator as it represents the average length of time that your sales staff or call center is engaging with their customers.
Average call times differ depending on a company's approach to providing a quality customer experience so there's no universal call time that companies should follow.
However, once a company establishes what an appropriate average call time is for their business, this metric can be used to provide insight into whether or not staff are engaging in meaningful conversations with clients.
Use the average call time to create a benchmark for staff to work off of and set goals for future performance.
Question #3: What are your busiest call times?
Nobody likes to be put on hold, and unfortunately, even the shortest amount of time on hold can begin to affect the customer experience.
Take a look at your call data to see when your busiest times of day are and ask yourself questions like;
What is the average wait time?
How many inbound calls are in the queue?
Which days are you getting overwhelmed with calls?
These metrics may indicate that it's time to hire an extra receptionist during your busiest times to keep your quality assurance intact!
Question #4: Where are the calls going to or coming from?
Are you spending too many minutes talking to a no-budge prospect?
Are you focusing enough on customer retention or putting all of your resources into gaining new leads?
Check your data to see where your calls are going, you may be missing an untapped opportunity.
Question #5: How many calls are brought in per specific campaign?
This is a great way to test the impact of your marketing efforts!
During a marketing campaign, you can provide a custom number or extension in your call-to-action and see how many calls are coming in as a result of that specific campaign.
Question #6: What messages are coming through on call recordings?
Listening in on call recordings may feel a little like Big Brother but the insight you will gain from listening to the needs and concerns of your customers will be paramount to understanding them, and in turn, better serving them.
PRO TIP: If your phone system is capable, connect your call data to Google Sheets or Office 365.
net2phone Canada's VoIP phone system SONAR has a number of integrations that can help with call data analysis.
Learn more about our extensive list of integrations today.