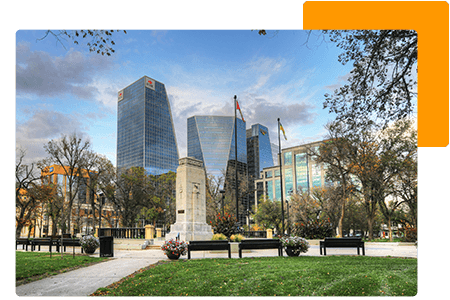 Business VoIP System for Saskatchewan
In both big cities and small towns, net2phone Canada has been servicing Saskatchewan's network of businesses for over 18 years. More than just a dial tone, net2phone Canada delivers high-quality, reliable, and feature-filled phone solutions designed for organizations across your province.
Trusted by Organizations across Saskatchewan



Serving Saskatchewan businesses since 2003
Saskatchewan serves as a Canadian leader in many categories, including increasing capital funding, onshore production, small business opportunities, and more. From locally owned companies and post-secondary educational institutions, to commercial and industrial organizations, Saskatchewan is home to a vast array of companies all with specific needs and use cases. Saskatchewan's fastest-growing organizations rely on net2phone Canada for their commercial and private business phone systems to create a unified communications solution that will elevate their everyday office efficiencies. net2phone Canada keeps Saskatchewan businesses connected with innovative features and tools engineered to improve your customer's calling, video conferencing and SMS chat experience.

All-in-one communications solution
Our business VoIP solution is powerful, yet easy to use. From quality calling and SMS messaging to video conferencing and beyond, we deliver everything you need in a business communications solution all in one inclusive platform.
Supported by Canadian-based technical experts
Our Canadian-based phone support team is available to answer questions and troubleshoot challenges. Experience fast, efficient and unparalleled support through the phone, chat or email.
Pricing customized for your business
Request a demo or get a personalized quote