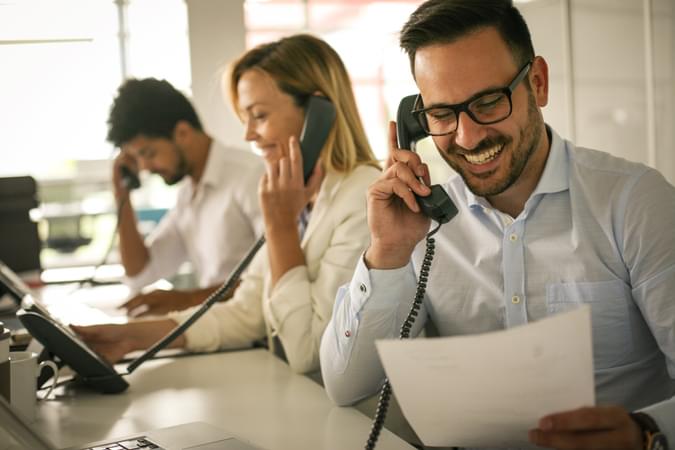 What is a
PBX

? How it Works, Features and Benefits

What is a PBX exactly? In this guide, we discuss everything you need to know about PBX phone systems, including the different types, how they work and their many impressive advantages.
PBX phone systems revolutionized business communication in the mid-20th century by enabling employees to call each other on a private network. As internet connectivity has developed, there has been a remarkable advancement in PBX technology.
Today, companies are increasingly turning to hosted PBX and UCaaS as they look for greater flexibility from their phone systems.
Let's take a closer look at each type of PBX. How they work and how they stack up against each other.


What is a PBX Phone System?
PBX stands for private branch exchange, and it is a company or organization's private phone network. It allows for calls to be switched between local lines, which means employees can call each other internally using extensions. It also allows users to share a limited number of external phone lines to make calls outside the organization.
Using the acronym as a guide:
Private: It supports private organizations and operates independently of the public switched telephone network (PSTN). In other words, this network is not handled by the telecom company. It is also referred to as private because the entire infrastructure belongs to the company.
Branch: Refers to how a PBX connects to the public switched telephone network (PSTN). A trunk line is the physical phone line that connects to the PSTN. Branch lines are the phone lines that connect to endpoints like desk phones or fax machines. A branch connects a limited number of external lines to a large number of internal lines. This way, if a company has 100 employees, it doesn't need to purchase 100 different phone lines; instead employees can share external lines.
Exchange: Refers to the switching system used to establish and release telephone calls made by the user.


The Evolution of PBX
Originally, human operators connected calls on the PBX. The operators would sit in front of a manual switchboard and answer calls. They would speak with each caller to figure out who they wanted to talk to and connect one caller with another by plugging wires into connectors.
Of course, today, we no longer require human intervention to dispatch calls. The process is automated through computer software and programming.



How Does A PBX Work
By using a PBX, employees can make internal calls to each other as well as external calls, such as calls to suppliers and clients.


To make Internal phone calls:
Each employee has a physical handset with an extension number that connects to the PBX. If you pick up the phone and dial your colleague's extension, the PBX will initiate the call. Once this call is established, the phone will ring, and you can have your conversation.
To receive external phone calls:
Suppose you're trying to call a client, supplier or anyone else outside the company. In that case, the PBX will first connect to the Public Switched Telephone Network (PSTN), which is the public telephone network. This connection is made through physical phone lines. The PSTN will then route the call to the external phone number you dialed.
For incoming calls, the same process happens in reverse. The call will reach the PSTN and connect to the company PBX through a trunk, and the call will get delivered to the extension, ring group or auto-attendant.
What does a PBX do?
PBX systems were developed specifically for business communication purposes, so they have a more robust set of features than conventional telephone systems.
 Some of the key PBX features include:
Call conferencing

Employee Extensions

Set business hours

Voicemail Greetings
Related: 10 Professional Voicemail Greetings For Your Business Needs


Types Of PBX And How They Work
1. Analog or Traditional PBX
Traditional private branch exchange (PBX) is an on-premise, business-grade private telephone network that allows you to make and take calls using traditional landlines. PBX systems are located on premises at your company's location, acting as a local exchange for connecting your company's phones.
You would often see traditional PBXs in older offices and call centers. Usually, they are big boxes on the wall or switchboards in telecom closets. This switchboard has analog phone lines going into it, and all of your company phones are connected to it.
The PBX switchboard is the telephone system of your business. It has all the programming to handle your call management, including stored telephone numbers, voicemail data, and information on how to route your calls.



Advantages.
Extensions: With PBX, colleagues can call each other on the internal phone system using extensions.
Fewer Landlines: Because colleagues can call each other through the internal phone system, companies can purchase fewer external PSTN landlines, saving costs.
Call Features: Users can transfer calls, host conference calls, put calls on hold, use menu options, and more.
No use of Internet: In case of a power or network outage, you can still use the phone system.
Disadvantages
Can only work from the office: Each phone connects to the PBX with on-premise PBX, which means service is limited to the building where you are located.
Risk of damage or loss: An on-premise phone system is susceptible to damage or loss if a flood, fire, or another type of natural disaster occurs.
High Cost of Ownership: On-premise PBX systems have a very high initial investment and cost of ownership as you are responsible for installation and maintenance costs.
Costly Maintenance and Parts: Because this is an older technology that the cloud and VoIP have mostly replaced, it's very difficult and expensive to find and replace parts.
Need physical office space: You must allocate physical office space to house the system.
On-site tech support and slow deployment: Installation, hardware, and maintenance are costly and need to be done by trained telecom specialists.
Limited scalability: There is usually a limit on the number of phones traditional PBXs can support, and it can be expensive to add extra phone lines or add new hardware.
Related: Traditional PBX vs Hosted PBX — What's The Difference?
2. On-Premise IP PBX System


An on-premise IP PBX operates using internet protocol (IP). IP telephony replaces the traditional copper wire landlines and instead uses the internet and digital signals to make calls. It still requires a significant amount of on-premises infrastructure and hardware. The IP PBX hardware connects with the Local Area Network (LAN) via ethernet cables using a standard internet connection.
Advantages:
No landline purchases: Because the system operates using the internet, you do not need to purchase dedicated landlines, which are more expensive.
Easier to install than analog PBX: Traditional PBXs can be challenging to navigate and install and typically requires a trained specialist. IP PBX installation requires less specialized training.
Disadvantages:
Need on-site IT: For upgrades, maintenance, and patches, you will still need on-site IT support.
High initial investment: On-site infrastructure still needs to be installed and maintained, so there is a significant upfront cost.
3. Cloud Based or Hosted PBX
A hosted PBX system is a cloud-based business phone system that uses VoIP (Voice Over IP) which lets you access your telephone system over the internet. Your service provider owns, houses, and maintains all your phone and communication hardware, which means the infrastructure is stored off-site.
Net2phone Canada, for example, maintains its data centers within Canada, ensuring data sovereignty. Your service provider is responsible for security, upgrades, maintenance, and hardware.
You can still use physical IP phones (this is optional), but unlike the analog system, these phones don't connect to a physical PBX box in the office. Instead, they connect to the internet and the cloud.
You still have all the advantages of a traditional PBX, but a cloud-based PBX offers far more advantages over the traditional system. In terms of business communications, it provides the greatest flexibility and possibilities.


Related: What Is VoIP?
Advantages:
Lower Upfront Costs: Unlike a traditional PBX system, you do not need to pay for phone lines and only need an internet connection. Also, there are no maintenance or installation costs like with an on-premise system.
Predictable Monthly Costs: VoIP solutions are subscription-based, and your monthly costs are predictable. You can opt for a UCaaS (Unified Communication as a Service) solution, which combines talk, messaging, video conferencing, and call center capabilities in one platform, saving you the cost of individual subscriptions.
Work From Anywhere: VoIP allows you to make and receive calls from any location with an internet connection, unlike traditional systems. Continue to work by bringing your desk phone and plugging it into the internet where you have access. You can also use a softphone app or other internet-enabled device.
Disaster Proof: Off-site infrastructure and redundant servers keep your data safe from on-site disasters like floods, theft or damage. Should you lose access to the office, you can bring your desk phone home, use a laptop, desktop, mobile app or even have your calls forwarded to your mobile phone number.
Scalable: You can easily add or remove users and features as your business demands change. For instance, as your business grows, you can expand or add satellite offices without building or maintaining new infrastructure.
No Maintenance - Changes are made remotely by the service provider, eliminating the need for on-site technical support. The service provider also does installation, equipment, training, maintenance and upgrades.
Quick deployment: Compared to an on-premise system, hosted PBXs are quick and easy to deploy.
Remote Training: Having your service provider train you on the system eliminates the need for additional IT support.
Better Customer Service: With advanced call features such as auto-attendants, you can quickly provide your customers with the necessary information.
Reliability: A hosted solution provider typically maintains redundant data centers to ensure security and reliability.
International Calling: VoIP offers much lower rates for international calls, saving you money.
Disadvantages
Need internet connection: With hosted solutions, your phone system relies on the internet. The good news is that you can easily forward a call to a mobile or landline phone number in case of an internet outage.
net2phone Canada Pro Tip:
Remember that if you lose power, the auto-attendant feature will still answer your inbound calls. You can have these calls forwarded or the callers can leave a voicemail at the dialed extension.
UCaaS takes PBX to a New Level
By incorporating hosted or cloud PBX with other communication capabilities and features, Unified Communication As a Service (UCaaS) modernizes communication. While PBXs only handle telephone calls, UcaaS combines VoIP calls, video, and chat into one platform. . This can be a powerful capability for large and small businesses alike.
Related: The Ultimate Guide to UCaaS: Unified Communications as a Service


Here's what you get with a UCaaS solution:
Desktop and mobile apps to take calls from anywhere: Allow you to access your phone system on the go. You can make calls from your mobile or internet-enabled device so that you can connect with your business phone number from anywhere. net2phone Canada's Sonar Phone and Sonar Mobile app even allow you to change settings like call forwarding, call queues and other answering rules.
Call Analytics To Enhance Customer Experience: Unlike PBX phone systems, UcaaS platforms make it easy to view call statistics, wait times and other call flow information to serve your clients better.
Video Conferencing, Chat and SMS for expanded connectivity: PBX systems only handle phone calls. In today's modern workplace, videoconferencing and SMS are other must-have communication features besides phone calls. UCaaS platforms have these features built-in, and it saves you from additional subscription costs.
Integrations to link with your existing SaaS tools. Integrations allow you to link your communication system with your existing SaaS tools, like your CRM. Integrating with your CRM allows everyone in the organization to access call data and information and improve processes.
net2phone Canada Pro-Tip:
Among others, net2phone Canada allows integrations with MS Teams, Salesforce, Zoho and more. You can also create and develop custom integrations using our open API.
Build better relationships, and deliver better customer service with the right business phone solution. Take the guesswork out of choosing a new provider with our step-by-step guide. Download it here.