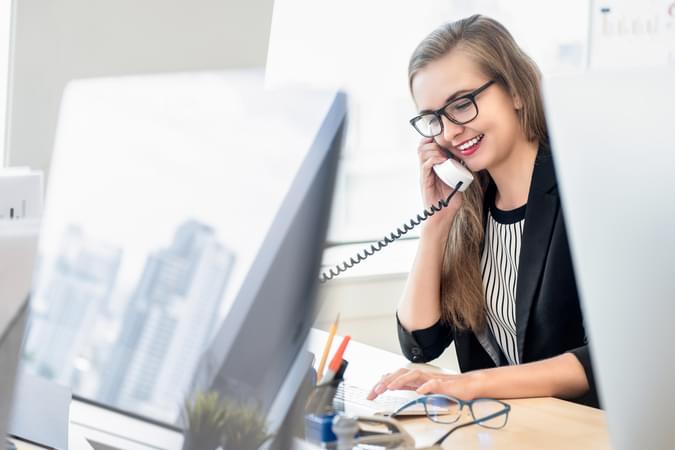 What is Call Forwarding? Definition, Benefits
&

FAQs

Discover everything you need to know about call forwarding, including 7 powerful ways it can benefit your organization.
Before the widespread use of the internet, employees had no choice but to rely on landlines to make and take work calls. Working outside the office simply meant your callers would go to voicemail, and you'd miss the call. You'd also miss the opportunity to support your clients, make a sale or take care of important business.

Luckily, with today's advanced business phone features, employees don't need to be tied to their landlines. They can work from anywhere and continue business as usual. Among those features that support flexibility is the ability to forward calls.
With new technology and VoIP business phone systems, call forwarding capabilities have improved significantly. You can now set call forwarding rules to meet specific needs, like forwarding calls to multiple numbers during certain hours.
What is Call Forwarding
The call forwarding feature allows you to redirect incoming calls to an alternative phone number. For example, if you're working from home, you can use call forwarding to reroute incoming calls from your work phone number to another, such as your mobile or home number.



How Call Forwarding Works
Let's consider a scenario where you are on the road for work, but you still want your customers to be able to reach you. You can turn on call forwarding on your business phone so that any calls coming to your extension will ring on your mobile number.
Your business phone will receive the incoming call and connect the two calls, allowing the clients' call to ring on your mobile device. With this feature setup, you can still serve and support your customers no matter what.
Benefits of Call Forwarding


1. Remote Work Capabilities
VoIP features have made remote work more accessible than ever. With a VoIP desk phone or softphone application, employees can make and receive calls using their business phone number from home. And if they prefer, they can have their calls forwarded to their personal mobile or home phone number.
Many industries and roles require travel, such as real estate agents who visit sites and accompany clients to view properties. With call forwarding, agents can take calls coming into their extension on their mobile devices. When working on the go, this type of flexibility is essential.
Related: What is VoIP?
2. Never Miss a Call
Whether an employee travels or works from home, they can set up call forwarding to receive calls on a mobile, home phone or any other phone number. This capability allows employees to work outside the office without the fear of missing important calls. This ensures that clients, prospects and stakeholders get the support they need when they need it.
3. Customer Service and Satisfaction
Your customers don't want to reach your voicemail and play phone tag with you. Activating call forwarding lets you prepare for when you aren't in the office. You can set up the functionality to redirect your calls to multiple phone numbers or direct calls to a colleague that can assist the client. By doing this, you will be able to serve all your customers and answer all their calls.
Related: Top 9 VoIP Features to Improve your Customer Journey
4. Cost Savings
Call forwarding is an automated business phone feature that requires no human intervention. You do not have to hire a receptionist to answer your calls and forward them to the appropriate department or individual. Additionally, there is no extra or costly hardware to invest in.


5. Professionalism
The use of call forwarding can help you build and maintain a professional image for your organization. Instead of giving your clients your personal phone number, they only need to call the organization's phone number. So even if you're out of the office, you can seamlessly answer the call on your device without your caller knowing.
Related: Using Unified Communications to Enhance Brand Image
6. Protect your Personal Information
Rather than giving clients and others your personal phone number, call forwarding is a far better option. Your customers can reach you without knowing or seeing your personal information with call forwarding. This way, you can protect your privacy and prevent getting calls at unwanted hours of the day, like during family dinner or a vacation. You can also avoid having to carry both a work mobile and personal mobile.
7. Business Continuity
If there is a power outage or disaster, you don't need to stop taking calls and serving clients. Stalling your business activities can affect your revenue, profitability and cause you to lose out on prospective sales. With business VoIP solutions, if your phones go offline because of an internet or power outage, you can forward your calls to a number on a mobile network or landline phone. This safety measure allows you to continue business operations. You can continue supporting clients and making sales even when things happen outside your control.
Learn how here.
How Does Call Forwarding Work
Call forwarding used to be pretty basic, with the ability to forward calls to only one alternate number. But now, with robust VoIP business phone systems, advanced settings can help you customize call forwarding to different numbers, extensions, times, and more.
To begin, let's go over some of the features involved.
Auto-Attendant is a business phone menu system responsible for answering and redirecting incoming calls.
Related: What is an Auto-Attendant, Definition, Benefits, FAQ



Answering Rules are a set of conditions that must be met for the auto-attendant to perform an action, in this case, call forwarding.
Time Frames specify during what days and hours you want your answering rule to take effect.


With a VoIP business phone system, the auto-attendant answers incoming calls and then forwards the call based on the answering rules and time frames that you've set up in the system.
Call Routing with net2phone Canada
Options can vary with providers, but as an example, net2phone Canada offers the following answering rules:
Always - Sends calls directly to the extension or phone number you've entered.

When busy - Forward calls when already on the phone or the system is set to unavailable.

When unanswered - Forwards unanswered calls.

Net2phone Canada Sure Answer: Forwards calls if phones go offline due to a power or internet outage.

Simultaneous Ring: you can configure multiple devices to ring at the same time to ensure you never miss a call.
You must also specify where you want your calls forwarded. Several options are available here to meet your needs. Among the options are:
Forward calls to an extension

Forward calls to a phone number

Forward calls to voicemail

Forward calls to an auto-attendant menu - auto attendant extension

Forward to a queue - queue extension
After you've set up your answering rules, you will create a time frame to specify during what days and hours you want the rule to take effect. For example, you can set up your auto-attendant to forward all your calls to your home phone number if you don't answer, but only between 9 AM- 5 PM, Monday through Friday.
FAQ's
How do I change the forwarding number?
While call forwarding options vary from provider to provider, net2phone Canada makes it easy to change your forwarding number. Within the answering rules section of your portal, you only have to edit and save the phone number.


How many phone numbers can an extension forward to
It depends on your business phone provider. With net2phone Canada, you can choose up to 22 different phone numbers to forward your calls to.
What's the difference between call forwarding and call transfer
Call forwarding redirects an inbound call to an alternate number before the call gets answered. On the other hand, call transfers happen when a call is already in session; the agent can send the ongoing call to another agent or user.
What's the difference between call forwarding and call routing
They are both features of a VoIP business phone system. Call routing sends inbound calls to specific departments or individuals based on pre-set criteria. Alternatively, call forwarding redirects calls to another phone number.
What's the difference between call forwarding and number porting?
Number porting permanently assigns your phone number to a new telecom provider. In contrast, forwarding temporarily forwards calls to an alternative number, such as your mobile phone. You can learn more about number porting in this article.
How much does call forwarding cost?
With business VoIP phone solutions, call forwarding is a standard feature typically included with your plan. View net2phone Canada's pricing plans here.
Final Thoughts: Adding Call Forwarding to Your Business Phone
Call forwarding may seem basic, but it can significantly impact your organization's call management. It offers the flexibility to work remotely, improves customer satisfaction and gives you peace of mind during a disaster or emergency. The impact of all of these factors can be significant for your business.
Today's cloud-based business VoIP systems equip you with a host of features, including call forwarding. Improve your customer service, communication, and collaboration abilities with advanced features.
Choosing a business phone solution can be daunting; we created this step-by-step guide that will help you make the right choice. From evaluating vendors, figuring out what features you need and other helpful insights. Download yours free here.