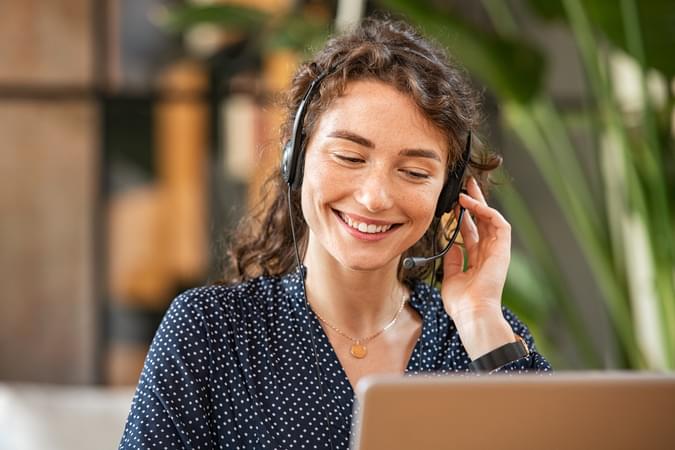 What Is An Auto Attendant? Definition, Benefits,
FAQ
What you should know about the auto-attendant business phone feature and how it can change the way you do business.
How many times have you called a business, only to be immediately put on hold by an irritated receptionist? You then become captive to on-hold music with no indication of when they'll be back. We've all been there.

This type of interaction is not uncommon, yet it diminishes the credibility of an organization and can even prompt callers to end their journey right then and there.
In today's marketplace, courteous, professional and good customer service is the minimum consumers expect. The good news is that you can save your receptionist and callers from this frustrating front desk experience with the mighty auto-attendant.
How Does An Auto-Attendant Work
Auto attendants are a business phone menu system that performs automated call answering. It also directs incoming calls to specific departments or individuals based on the caller's input.
Related: What is VoIP?

The auto-attendant performs several duties that can minimize the need or workload of a front desk receptionist. By freeing up time, your receptionist can focus on higher-value tasks.
The auto-attendant can:
Respond to incoming calls and play a greeting message.

Give menu options and route calls to the appropriate department or individual.

Play general informational messages like business hours or location.
Your company's auto-attendant helps prevent your customers and prospects from waiting on hold for long periods and gets their inquiries addressed quickly, without the need to speak with a human.
This consistent and streamlined call experience can enhance your brand's image and customer experience.
Related: Using Unified Communications to Enhance Brand Image
Benefits Of An Auto Attendant
1. Improve Customer Experience
Make it possible for your customers to choose what department or person they want to connect with. Your auto-attendant can quickly and seamlessly route callers to the correct department, user or queue. This automated call process increases your chance at first call resolution and prevents calls from getting misdirected or going to an inactive voicemail.


2. 24/7 Sales and Support
Today's customers expect service and support at all hours of the day. With the auto-attendant feature, you can use call routing to send callers to a satellite office in a different time zone, send callers to a voicemail or play a recording if your office is closed for the day.
VoIP business phone systems can even forward your call to employees working remotely or on-call, so you can have agents answering after-hours emergency calls. These features allow you to spend more time on sales and support, which is always good for your bottom line.

Related: 3 Call Routing Strategies and When to Use Them
3. Consistent and Professional Service
You can count on your auto-attendant to handle your calls quickly, professionally and without fail. Whether your receptionist is unavailable or receiving a high volume of calls, you don't have to worry about missing any of them.
Even if you receive calls outside of business hours, the feature allows you to always provide a consistent service level no matter the time or circumstance.

Related: 5 Strategies to Improve External Business Communication


4. Save Money and Time
Without an auto-attendant, your organization must hire a full-time receptionist to answer and manually route calls. When a company does not have the resources to hire a full-time receptionist or is short-staffed, the auto-attendant can fill that important role at a lower cost.
If your organization does have a receptionist, they can spend less time repeating office hours and messages, freeing them up to concentrate on revenue-generating activities.
Related: Understanding VoIP as a New Employee
Best auto-attendant scripts
A basic auto-attendant script should thank your caller, state your company name and present clear menu options. Here is an example script:
"Hi, Thanks for calling [Company Name]. Our offices are open between 9 AM and 7 PM Eastern Time from Monday to Friday. Please select from the following options.
For sales, press one.
For billing, press two.
For support, press three.
For hours of operation, press four.
To speak to a member of our team, please remain on the line. "
To generate your auto-attendant greeting, you can use a voicemail greeting generator that will convert written text into audio. It's usually as simple as copy-pasting your text and pressing a button to produce an audio file. Note that some free services will limit how many voice greetings you can generate, like this one. Paid versions will often include language, voice, speed, and pitch, as seen here.
Related: 5 Messages You Need to Include in your Auto-Attendant
IVR vs Auto-Attendant
You may have heard of auto-attendant and IVR used interchangeably, as well as ' virtual receptionist,' 'digital receptionist,' and 'automated receptionist,' but there are some specific differences.
Interactive voice response IVR systems (IVR) are different from auto-attendants as IVR allows customers to say what they're calling about rather than just pressing a number to direct their call. IVR systems also accept numerical responses, like credit card numbers or account information. This ensures that the agent has the caller's information on hand when they answer the call.

Related: Top 9 VoIP Features to Improve your Customer Journey
How To Setup Auto-Attendants With net2phone Canada
Setting up an auto-attendant can vary depending on the platform you're using, but here's how net2phone Canada's customers can setup their auto-attendant. It's as simple as logging into your online portal and clicking the Add Attendant button, and entering the name, extension, and time frame.
Plus, during the onboarding process, a net2phone Canada agent helps in the creation of auto attendants and call flow.



How To Change an Auto Attendant
The steps you take to change an auto attendant will vary from provider to provider. Here's how office managers can edit and manage the auto attendant with net2phone Canada.
Under the auto-attendants tab in SONAR, click the name of the auto attendant or the pencil icon to bring up the edit pop-up menu. From there, you can:
Edit your intro greetings: directly edit, delete and add intro greetings that you can either upload or record.

Manage audio: Edit the greeting description, see the length and modify the greeting by uploading or recording a new auto attendant message.

Change dial pad menu options: configure the auto attendant options, including users, call queues, directory, voicemail, external numbers and more.

Related: 10 Professional Voicemail Greetings Your Business Needs
FAQ's
Is an auto-attendant included with net2phone Canada?
All net2phone Canada's plans, from starter kit to call center plans, include unlimited auto-attendants with no additional charges. View plans here.

Can I use an auto attendant with my existing phone system?
The auto-attendant is a business phone feature you can use if your current provider offers it as an option. If not, you can check out this step-by-step guide to choosing a business phone solution to help you upgrade to the right vendor, features and service.
How do I know if I need an auto attendant for my small business?
Auto-attendants can benefit small businesses, as many do not have the budget to hire a full-time receptionist. You can rely on the feature to answer your calls automatically with a professional voice and tone, helping you meet customer expectations.
The auto-attendant feature can also help small businesses appear like larger organizations to boost their brand image as they grow.