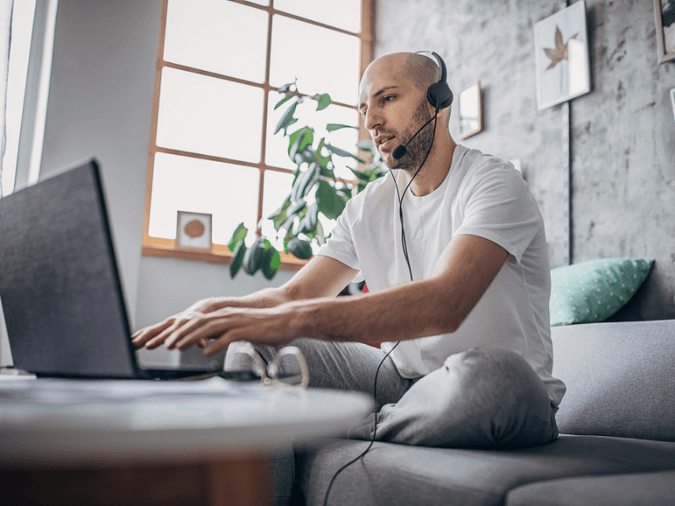 Top
9

VoIP Features to Improve Your Customer Journey
Depending on what type of product or service is offered, businesses often create various customer journey maps, and in many ways they follow a similar communications structure. Now, imagine introducing a feature-filled Voice Over Internet Protocol (VoIP) communications solution into the mix, separating your customer journey from the rest, progressing prospects through their journey, minimizing prospect drop off and enhancing their experience? It's all in how you communicate. These Top 9 business VoIP features will further improve your current mapping, better your client's experience and play a large part in cultivating the ultimate customer journey:
1. Custom Answering Rules
A responsive team is a successful team. Keeping your prospects informed and providing a quick response goes a long way in a customer's journey. A feature like answering rules determines how, when and where your business phone will ring when someone is trying to reach you. Custom answering rules allow you to customize settings like call forwarding to your cell phone (even in the event of an office outage), simultaneous ringing with your cell phone, ring delays and much more.
2. Voicemail to Email
Not all of us schedule enough time in our work day to check voicemails, if any time at all. Through voicemail to email, your messages are transcribed and sent right to your inbox, making it more convenient to manage your voicemail messages. More importantly, alleviating the delay in response times saves the conversation from flatlining and enables you to address a customer's concerns more quickly.
3. Call Recordings
Managing customer interactions all day long can sound intimidating, but it's easy to find a silver lining when you have call recordings. Introducing a feature like this into your organization allows your team to better prepare for the next conversation by studying previous situations and calls. Call recordings also help with training agents. Saving a bank of successful conversations and studying the interactions will help your agents perfect their outreach and ultimately improve the overall customer experience.
4. Scalability
A common goal among companies is to grow, and what better way to do it than investing in a VoIP communications solution that is easily scalable. Seeing a large increase in the numbers of calls received, the amount of requests your organization is getting, or just having trouble managing the entire system? Don't forget, issues that cause your company delays will inevitably cause delays for your customers as well. Avoid prospect drop off by always being properly equipped with easy to implement VoIP technology.
5. CRM Integrations
One of the best ways to ensure prospects have a good calling experience is to sync your phone solution with your CRM. Integrating your phone solution with programs like Salesforce, Zoho and Zendesk (just to name a few) are big drivers in enhancing the customer experience. Knowing you have prospect and customer information (such as contact details and history, agent notes, commonly asked questions, etc.) available at your fingertips means more meaningful conversations, more accurate analytics and less time wasted speaking to misfit opportunities.
6. Custom Auto Attendants
Auto attendants are one of the most valuable features in a business phone solution, and can be customized to meet the specific needs of your callers. The pre-recorded menu helps your callers navigate your services by effortlessly directing them to individuals or departments, which enables your customers to reach their intended recipient quickly. Your caller's ability to direct themselves also alleviates a large volume of calls for your receptionist! With custom auto attendants, you can spread important information to the masses, share promotions, or create unique greetings.
7. Multiple Channels
Not all customers are the same. While some prefer talking directly on the phone, others may prefer the face-to-face interaction of video calls or the seamless experience of SMS messaging. Allowing your customers to choose their communication preference will make all the difference in their customer journey. Ensure your business communications provider offers more than just a dial tone, and leverage all of the channels available within your bundle.
8. Video Conferencing
Video conferencing is the modern way of conducting business. This feature opens up a world of possibilities when it comes to VoIP and using a unified communications solution. We recommend video conferencing technologies that allow organizations to record meetings and share presentations. If the organization is frequently video conferencing with individuals outside of the company, it is important to choose a browser-based video conferencing solution as it will require no software downloading on your client's end.
9. Soft Phone & Mobile App
Did you know that 83% of callers will hang up without leaving a message if no-one picks up? Responsiveness is critical to a successful customer journey. Through softphones and mobile apps, you can take your business phone solution on the go. You no longer have to be tied to your desk to remain available, simply forward your calls from your desk phone to your laptop or mobile device and you'll be connected.
mplement a business VoIP solution today to start reaping the benefits not only with the service itself, but with the additional suite of VoIP features, helping you map out your ideal customer journey. Here at net2phone Canada, we are ready to show you the plethora of features that are included in every one of our bundles. What are you waiting for? Request a demo today!