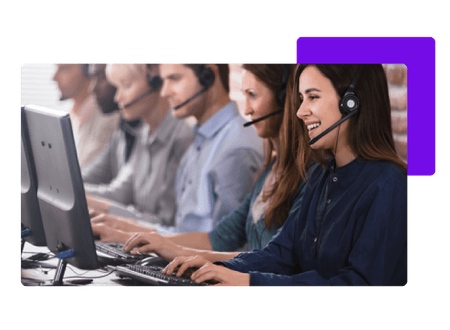 Push your training and coaching to a new level
Easily track your call KPIs and create better accountability with Call Center Reporting - all built into SONAR.
Call reporting
Office managers can view and download Call History data through the SONAR Client Portal. Within SONAR you can see the call disposition (Inbound, Outbound, or Missed), who the call came from and when, and how long the call lasted. From that view you can also download or listen to the call recordings for individual calls (when enabled).
Emailed reports
Office managers can also subscribe to email reports on call centre statistics and are able to choose the type of report and frequency of report(s) you want to receive. This feature comes with our Call Centre plan.
What can Authorized Managers report on?
Authorized managers, such as Call Centre Supervisors or Office Managers, can view information on Queue stats, Agent stats, Agent availability, and Abandoned calls. You can drill down by these parameters:
Queue Stats
Call Volume
Calls Handled
Calls Offered
Average Talk Time
Average Hold Time
Service Live
Abandoned Calls
Abandon Rate
Average Handle Time
Average Wait Time
Agent Stats
Calls Handled
Talk Time
Average Talk Time
Average Hold Time
Missed Calls
Outbound Attempts
Agent Availability
Time logged in
Time available
Time on Lunch
Time on Break
Time in Meeting
Abandoned Callers
A list of caller details who hung up while waiting to be dispatched to an agent.
Feature value
Agent insight
Call reporting can help you reduce productivity loss by determining how long your agents spend on the phone, your call volume and how your calls are being handled.
Right to your inbox
Emailed reporting sends your recurring reports right to your inbox. Make your own reporting and analysis easier to get than ever before.
Use Cases
When people think of business data, the first thing that comes to mind is excessively-technical computer software or expensive cloud-based analytics tools. What is often overlooked is the business phone system. With every phone call coming in or out of your organization, your business phone system is generating mass amounts of data. From your own team's productivity, to your callers demographics, the information generated through these calls can pinpoint unoptimized opportunities.
Pricing customized for your business
Request a demo or get a personalized quote
Not ready to check us out yet?
Get more info on how net2phone Canada can impact your business and see examples of how our solution fits into your industry, or use case.