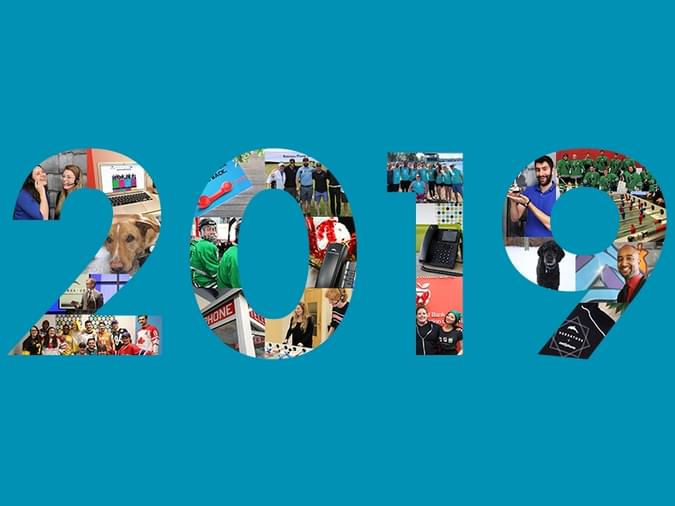 2019

Year in Review

As we begin the start of a new decade, we wanted to take a moment and look back at all of the milestones we achieved in 2019!
As we begin the start of a new decade, we wanted to take a moment and look back at all of the milestones we achieved in 2019! A special thank you goes out to all of our clients, partners, and community members for all of your support throughout the year. Here's to an incredible year, and to the rapid growth, community building, and innovation that we will continue to bring in 2020!
We gave back to our community!
Donated 371 lbs of non-perishable food items to the Ottawa Food Bank
Donated a vehicle to the Youth Services Bureau to provide their Mobile Crisis and Residential Unit with a means of safely reaching families in crisis.
Partnered with the Gloucester Emergency Food Cupboard and the Eastern Ottawa Resource Centre for the fifth year in a row to sponsor a family in need during the holidays. Team V collected food, gifts, clothing, and toys to make this holiday a special one for an Ottawa family of 5.
Powered both the Sandra Schmirler Foundation Telethon and the CBC Project Give Telethon, donating all services and hardware, in support of their causes.
Gave back to Canadian non-profit organizations and charities by providing them with free phones and service so that they can continue to invest their resources into improving our communities
We developed innovative features like our new Zendesk integration, a hotkey builder, wifi adapters, the self-service bilingual auto-attendant, and free international calling to over 30+ countries.
We doubled the size of our team and even welcomed some new members to Team Fursature.
We got a major office makeover and even acquired new space to accommodate our growing team!
We launched our channel team, comprised of 4 talented sales managers, a marketing manager and a channel sales director.
We attended and sponsored various Canadian events like the Insurance Business Canada Awards, SaaS North, XEO Marketing, Legacy Conference, Calgary Small Business Week Expo and more!
We upgraded our hardware! New clients now receive Polycom VVX250 phone rentals when they partner with Versature.
As always, we had some fun! We held multiple team-wide BBQs, joined hockey and dodgeball leagues, organized chicken wing 'Hot Ones' contests, and enjoyed new craft beers every Friday beer O'clock.
Take your communications to the next level in 2020! Request a demo with one of our Product Experts and learn how Versature's solutions can help your business grow.