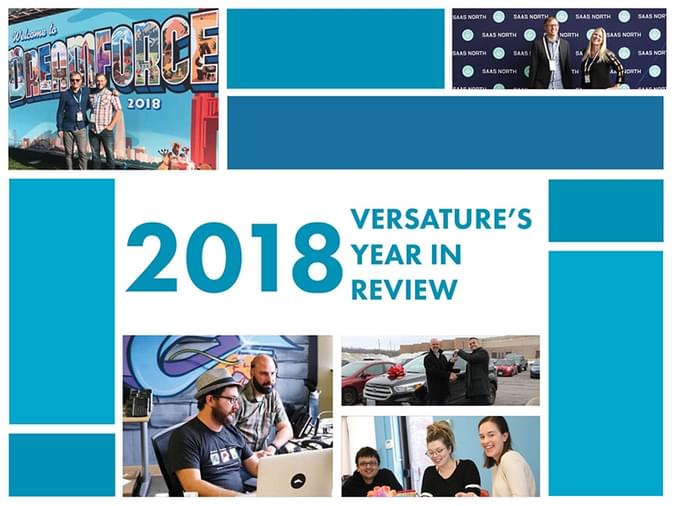 2018

Year in Review

Versature has had a whirlwind year! Take a look at some of the accomplishments we're most proud of from 2018.
What a whirlwind year it has been! For the Versature team, it was a year of rapid growth, plenty of caffeine, giving back to our community, and exciting innovation. A big thank you to all of our partners, clients, and community members for all of your support throughout the year. Here's a quick highlight reel of Versature's 2018!
We donated all telephone hardware, support, and leaderboards to the Sandra Schmirler Foundation Telethon and the CBC Project Give Telethon in support of the Ottawa Food Bank.
As part of our 2018 corporate philanthropy, we named Vee, a female Atlantic spotted Dolphin off the coast of Bimini! Versature's contribution has gone towards the research and conservation activities of the DCP who work to ensure that Vee and her fellow dolphin friends are safe and secure from harm.
We launched some very exciting additions to our solution like the Conference Pod, Versature Academy, and Insights.
We were named to the Branham300 top 250 Canadian technology companies and the Growth 500 ranking of Canada's fastest-growing companies.
We donated a vehicle to the Youth Services Bureau to provide their Mobile Crisis and Residential Unit with a means of safely reaching families in crisis.
We added 18 new members to the Versature family (and a couple of new office dogs too!)
We partnered with the Gloucester Emergency Food Cupboard and the Eastern Ottawa Resource Centre for the fourth year in a row to sponsor a family in need during the holidays. Team V collected food, gifts, clothing, and toys to make this holiday a special one for an Ottawa family of 6.
We attended a ton of events like SaaSTr Annual, Startup Open House, Dreamforce, the Channel Partners Evolution Conference, Startup Day on the Hill, and SAAS North!
And the most exciting of all, Versature was acquired by Net2Phone, the fourth largest VoIP provider worldwide and a subsidiary of IDT Corporation. The acquisition broadened net2phone's international expansion and accelerated Versature's growth trajectory.
Take your communications to the next level in 2019! Request a demo with one of our Product Experts and learn how Versature's solutions can help your business grow.