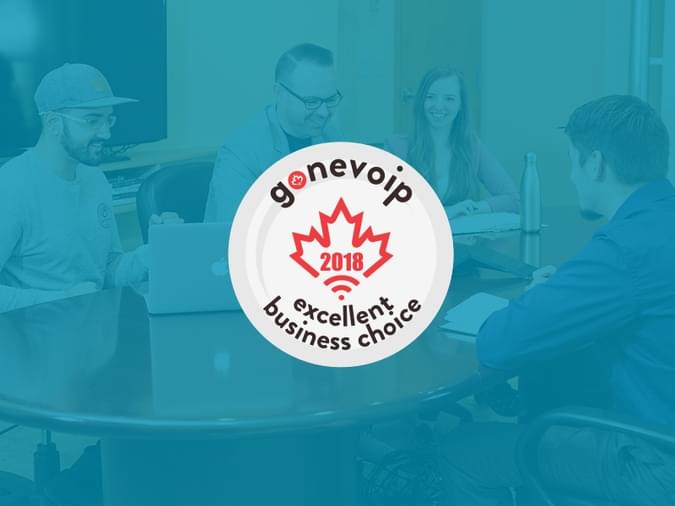 Versature to be the First Recipient of the GoneVoIP Excellent Business Choice Award
Canadian Leader in UCaaS Solutions Recognized as Best Business Phone Provider by GoneVoIP
Canadian Leader in UCaaS Solutions Recognized as Best Business Phone Provider by GoneVoIP
FOR IMMEDIATE RELEASE – OTTAWA, CANADA – January 16, 2019 – Versature, the Canadian leader in Unified Communications as a Service (uCaaS) delivering SaaS-based business VoIP solutions, was awarded the title of Excellent Business Choice for the year 2018 by GoneVoIP, Canada's premier platform for researching VoIP providers.
"Being recognized as the top business phone provider of the year among a significant list of competitors is another exciting achievement for our team," says Jonathon Moody, President of Versature.
Versature continues to experience rapid growth by expanding its Canadian customer base from coast to coast and innovating unparallelled analytics technology to enhance the caller experience and empower businesses to leverage their communications to achieve higher levels of performance.
"The recipients of the Excellent Choice Awards are influential leaders within the telecommunications industry and have demonstrated innovation and customer care excellence," says Luis Aggretti, Founder and CEO of GoneVoIP. "To determine this year's winners, we measured each provider's reviews, product launches, response times, and requests driven by the GoneVoIP platform. Based on the data and analytics we've compiled, it was clear that throughout 2018 Versature was consistently on top."
For the first year ever, GoneVoIP has leveraged its platform to highlight the top business phone service provider and the top consumer service provider of the 2018 year. The award honours companies that have developed excellent VoIP and communications products paired with outstanding service. The Excellent Business Choice title was awarded to Versature in recognition of their new product launch, Insights, which empowers businesses to leverage call data to make informed decisions.
About Versature
Versature is the leader in Canadian SaaS-based business phone and communication solutions. Trusted by clients and partners across the country, Versature is an award-winning company that is raising the bar with the highest quality phone systems, superior Communications as a Service and operational system integrations, and Canadian-based technical support. Founded in 2003, Versature has a rapidly growing subscriber base and strong partner network from coast to coast. Visit Versature at Versature.com.
About GoneVoIP
Founded in 2012, GoneVoIP's service provider platform has been helping Canadians differentiate between a vast array of internet and service solutions. With over 490 providers listed by services, costs, user reviews and questions, GoneVoIP provides a brokered approach to finding the most reliable and affordable VoIP and internet options based on geographic areas.
For media inquiries, please contact:
Danica Bateman
dbateman@versature.com
877-498-3772 x127