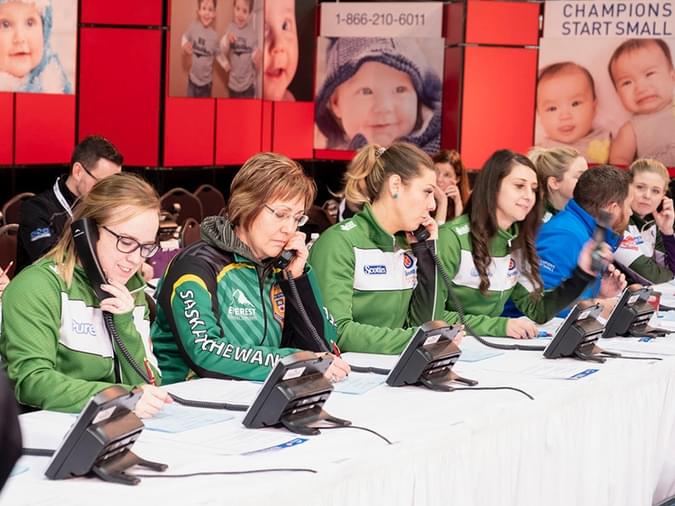 Versature at the
2019

Sandra Schmirler Foundation Telethon

Versature powered the annual Sandra Schmirler Telethon for the 6th consecutive year by donating hardware, leaderboards and tech support throughout the event.
It was another successful year for the Sandra Schmirler Foundation Telethon and for the 6th consecutive year, Versature had the pleasure of powering the event. The Sandra Schmirler Foundation, named after curling champion and Olympic gold medalist Sandra Schmirler, supports Canadian hospitals by donating life-saving NICU equipment to care for critically ill newborns. The annual telethon hosted by the Sandra Schmirler Foundation during the Scotties Tournament of Hearts brings together competing teams, dedicated curling fans, and generous Canadians for one overlying goal: to save the lives of newborn babies.
The Versature team arrived in Sydney, Nova Scotia, three days before the event to setup and test the hardware, activate dashboards, and provide onsite support. The plug and play functionality of the state-of-the-art Polycom phones allowed for a seamless setup process and within 3 hours, Team V had 40 phones up and running. With the goal of raising enough money to donate 10 new incubators to Canadian hospitals, volunteers were eager to be flooded with calls from donors across the country.
"We are very grateful for our long-standing partners who are such an integral part of our success. This couldn't happen without the collaboration and long-time support of Curling Canada, and we are indebted to the team at Versature who are there with us every step of the way. They provide all of the phones and their considerable talent in ensuring every call is personally answered when people from right across Canada call in their donations," said Brad Sylvester, Board Chair of the Sandra Schmirler Foundation. "We're all working together towards a shared vision of helping save the lives of babies born premature and critically ill."
The 2019 telethon hit another major milestone for the Sandra Schmirler Foundation, raising a new record of $405,000 which bested the previous year's total by $90,000. The dashboards donated by Versature displayed real time call data for volunteers and board members to see important metrics such as number of calls handled, call volume, average talk time, waiting times, and more. These metrics graphed the spike in call volumes as TSN broadcast the telethon for viewers to see live.
Here are some of the most notable statistics from the 2019 telethon:
We look forward to seeing what can be accomplished with the donations brought in through the Sandra Schmirler Foundation Telethon. We're honoured to have been chosen to take part in such an incredible day and are looking forward to continually supporting the Sandra Schmirler Foundation in the years to come.
As part of Versature's Pledge 1% commitment, we are proud to support Canadian telethons by providing phone service, setup, and support. Learn more about Versature's 1 - 1 - 1 designation of corporate philanthropy.