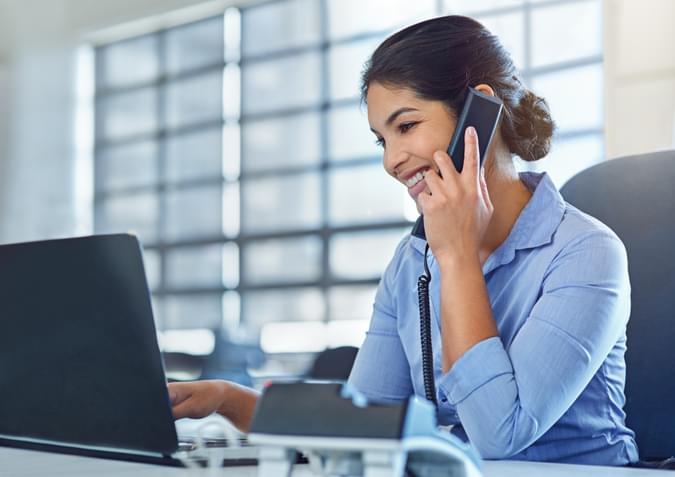 Putting the Pro in Provisioning
net2phone Canada has a tried and true provisioning process, one we have spent over 10 years perfecting. Our staff are experts in what they do and work with your company at every step of the way to ensure all your needs are covered.
After spending time discussing your new solution with a member of our sales team, as well as reviewing the different options at your disposal, you decided that a hosted phone service is the next step in moving your business forward and have selected net2phone Canada as a partner you can rely on for the years ahead. You're going over the final numbers and preparing to electronically sign off on your quote to move forward.
It is at this stage that potential customers often wonder, "What happens after I sign on the dotted line? How long will it take to get my system up and running? Am I left fending for myself as soon as the salesperson signs off?" With net2phone Canada, absolutely not! The following is a quick rundown on our white-glove approach to the provisioning process, providing you with peace of mind about the implementation of your new business phone system.
Step 1: A Special Relationship
When you sign your service agreement, you will provide your net2phone Canada Sales Associate with a point of contact on your team who will be responsible for the deployment of the net2phone Canada solution. This person's role will be to work with our onboarding specialist, gather your office phone system requirements, fill out a few forms and coordinate training with the appropriate resources on your end.
Once your signed agreement is processed, you will be assigned a designated point of contact within the net2phone Canada onboarding team. This single point of contact ensures you have a "go-to person" throughout the deployment of the net2phone Canada service and one person to learn the intricate ins and outs of your business account. The Provisioning Specialist in our Ottawa head office will see your account through the entire onboarding process, from start to finish, and engage other net2phone Canada teams as needed.
Step 2: Introductory Call
Within one business day of being assigned to your account, the dedicated Onboarding Specialist will reach out to you to introduce themselves and discuss the onboarding process. During this call your onboarding specialist will learn the essentials of your business, detailed requirements, and transition specifications including timelines for the rollout.
Following the call, you will be sent a summary email and a request to provide a User List (list of phones/extensions including the full name and contact details for each phone); documents required to transfer your phone numbers from your previous provider as well as a copy of your most recent phone invoice.
Step 3: Breathing Life into your Phone System
Once the above documents are received back, your onboarding specialist will create your new account and users, and build a basic call flow according to the discussion you had during the introductory call. Applicable features and settings such as call centre functionality, ring groups, and automated attendants are setup and tested; users provided in the User List are set up in Sonar, our customer self-service portal, so that they may log in and start adjusting their settings as soon as the hardware is received.
If your implementation includes hardware, the onboarding specialist will then configure your hardware and get it shipped to your requested location. Having your onboarding specialist act as a consistent point of contact to review your account details and then configure and package your equipment ensures that no requirements are overlooked.
Step 4: Door-to-Door Delivery
If you have hardware in your setup, your phones and other hardware are shipped via courier for quick and efficient delivery. Customers receive their new phones plug-and-play ready, meaning all that is required on the user end upon receiving them is plugging them into a high-speed Internet connection! All phones will be labeled as to which extension is configured on them. We do recommend connecting at least one and make a phone call using the new phone, as the phone should be ready to make outgoing calls! If the phone is not behaving as expected, your Onboarding Specialist will coordinate with one of our Support Agents to troubleshoot why the phone is not registering properly. We prioritize ironing out these issues right away before we transfer your phone numbers over to our system!
Step 5: A Personal Walkthrough
The phones have arrived and at least one is plugged in, now what? At this point, the dedicated Provisioning Specialist will take your office contact who will be overseeing the platform through a walk-through of our web portal, SONAR, as well as any other desired components like our data analytics tools or conference solutions. We will also provide you with a link to our net2phone Canada Academy website, where you can find plenty of self-service articles on how to use our system and products.
Step 6: Number Transfers
Once your system is configured to your liking and you're porting an existing number, we are ready to proceed to the final step during which we will submit the paperwork required that will allow us to transfer over your numbers to net2phone Canada. If the information in the provided forms is incomplete or different from what your previous provider has on file, we may have to work with you to get the complete information from them. Once the onboarding specialist receives a confirmed date for the transfer, they will let you know at which point you can plan on when to set all the phones up at their proper location. The day of the transfer, once the onboarding specialist is notified that your number has transferred over, they will test the number to confirm the number has transferred properly and will advise you.
Step 7: Ta-Da! Welcome to the Wonderful World of net2phone Canada's VoIP Service
Congratulations, you're a net2phone Canada client! By this point in the process you have received your phones, plugged them in, and are pioneering your way through your new unified communications system. Questions are sure to arise as your team strives to maximize the use of your new features and functionality. Thankfully, our Canadian-based support team is just a three-digit dial away (6-1-1 from any net2phone Canada device) to answer all of your questions and ensure your team gets the most out of its new system. The onboarding specialist will also introduce you to a member of the Customer Success team which will oversee your account going forward.
Total turnaround time for this process varies, largely depending on the size of your account and arrangements with your current phone provider. Typically, systems can be up and running within as little as 15 business days of receiving a signed contract.
net2phone Canada has a tried and true provisioning process, one we have spent over 20 years perfecting. Our staff are experts in what they do and work with your company at every step of the way to ensure all your needs are covered. We will do everything we can to provide a smooth and seamless transition as well as provide peace of mind throughout the entire process!