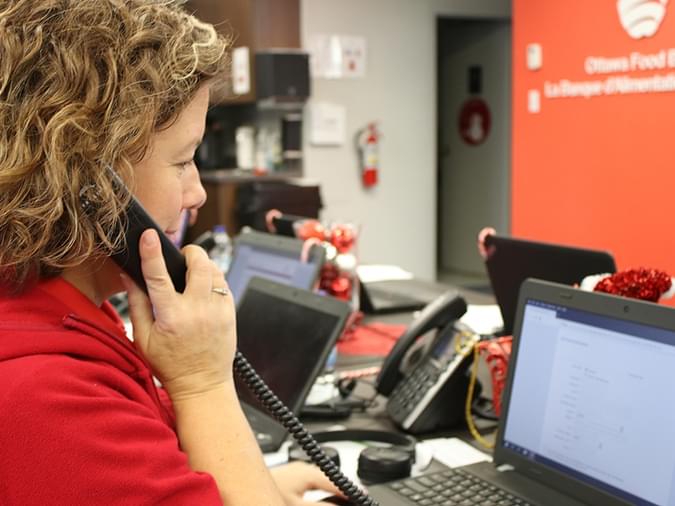 CBC

Project Give Telethon Recap

December 14, 2018, marked the annual CBC Project Give Telethon event in support of the Ottawa Food Bank. For the first time ever, team net2phone Canada had the pleasure of participating in the joyous occasion by donating all phone hardware and tech support to power the telethon.
Every year the Ottawa Food Bank and CBC partner together for a day of live broadcasting, sharing holiday fun, spreading awareness, and collecting donations for the thousands of families suffering from hunger in Ottawa. The Ottawa Food Bank delivers over 114 Emergency Food Programs and Food Bank supplies to over 38,400 monthly clients. The months leading up to the holidays are particularly crucial as families depending on the local food banks begin preparing for the holiday season.
Weeks before the telethon, the net2phone Canada team worked hand-in-hand with members of the Ottawa Food Bank to determine their hardware needs, set up phones and wallboards on-site, and configure a custom number for callers to dial in.
The phones went live at 5:30 am and the calls came flooding in! Team net2phone Canada prepared a wallboard that graphed the call volume by hour and illustrated live metrics like how many calls are currently in the queue, how many calls are active, average wait time, and maximum wait time. CBC Project Give volunteers were able to see in real time the total call volume, total calls handled, abandoned call rate, and service level. Thanks to the incredibly generous donations of callers, the CBC Project Give telethon raised $197,845.7, which bested the previous year's total by nearly $70,000.
Here are some of the most notable statistics from the successful telethon:
398 total calls received
10 donated phones
Average talk time was 3.5 minutes
Average answer speed was 22 seconds
$197,745.70 raised to support the Ottawa Food Bank
"The support we receive during CBC Project Give means so much to us. We are touched every time the phone rings as a supporter decides to make that important call to donate. net2phone Canada has been instrumental in helping us make all of this possible. Having our call centre in-house with a technician on-site has made this a worry-free experience as we celebrate the Christmas season during this special day."

Samantha Ingram, Communications Coordinator, Ottawa Food Bank
net2phone Canada is proud to have been a part of such an incredible day! We look forward to continually supporting the Ottawa Food Bank and the great work they do in fighting hunger in Ottawa.
Are you a registered not-for-profit looking for a top-notch phone system? Explore net2phone Canada's solutions for non-profit organizations.