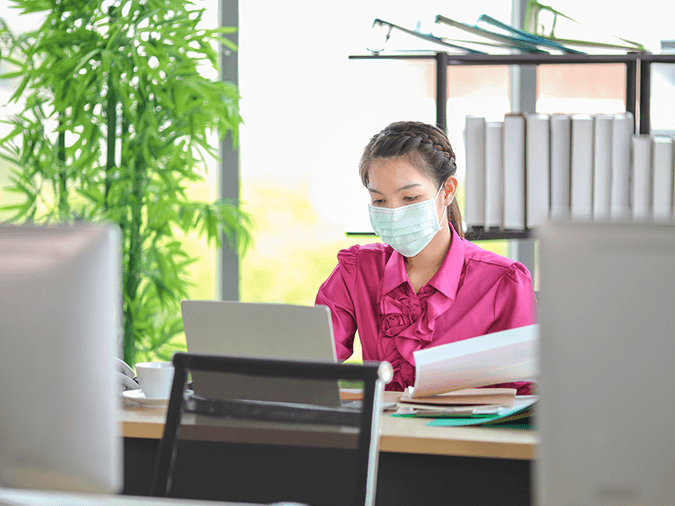 How to Prepare for a Safe
&

Effective Office Return

As provincial governments across the country begin phasing out their approach to economic re-opening, Canadian businesses are eagerly and cautiously planning their return to the office. Follow these steps to prepare for a safe and effective office return.
As provincial governments across the country begin phasing out their approach to economic re-opening, Canadian businesses are eagerly and cautiously planning their return to the office. It's clear that employees will not be working under normal conditions, and management needs to implement a strict set of guidelines to keep their employees and customers safe and informed on the office's new policies. Follow these steps to prepare for a safe and effective office return.
Establish a gradual returning process
The management team needs to think about which roles they are required to have in the office, and plan accordingly, so as to reduce the health risk to employees. All equipment should be frequently sanitized and team members should be assigned specific desk spaces to ensure that everybody within the offices complies with social distancing protocols. You may need to repurpose unused communal spaces such as conference rooms and kitchens to accommodate the required team members. To establish a gradual returning process, organizations should bring workers back in the reverse order in which they were asked to work remotely. If every employee needs to access the office or specific equipment, scheduling rotating shifts for employees will be key to maintaining a safe distance and avoiding full occupancy. Consider keeping the office open on weekends and after hours to ensure every employee that needs to can access it.
Purchase required health & safety equipment
The health and safety of your team and clients should always be your first priority. Equip your team with protective garments such as gloves and face masks, place hand sanitizers on each desk and continually re-stock the soap dispensers. Increase the frequency of which your office is cleaned and ensure that the entire space has been sanitized before the next rotation of employees enters the office.
Prepare your Internal and External Communications
To properly execute a safe and effective office return, your employees, clients, and any incoming visitors must be aware of the new policies so that they can do their part in keeping the office safe. Once guidelines and resources are created, make sure that they are available and easily accessible. Post them on your website, send to clients and team members via email, promote them on social media and continually reiterate your message.
Update Your Phone Features & Messaging
As you approach your re-opening, clients and partners are undoubtedly going to want to reach you directly by phone. Ensure your phone system is updated to include your current messaging and prepared for your employees' return:
Softphone and Mobile App Implications
When switching between devices such as the SONAR Phone or Mobile App, you must add or remove the new devices into the queue to be able to receive queue calls. If your team members were operating off browser-based calling or their mobile device and are preparing to return to their desk phone, remove their other devices from the queue.
Auto Attendant Messaging
Your auto attendant message serves as an easy way to relay critical information to callers. Update the message to inform callers of new policies, hours of operation, or simply to thank callers for their loyalty as you've been away. In the past, adding an additional greeting to your auto attendant required an entirely separate recording. Now all you have to do is add an "Intro Greeting" to your auto attendant that will play before your recorded message.
For example, your auto attendant may start with, "thank you for calling, carefully listen to the following options." With a return to office greeting, your auto attendant could start with "Please listen to the following message about our office return guidelines" and then your regular auto attendant would immediately play as it normally would. For more on how to create a new introduction, check out these instructions for auto attendant intro greetings.
Personal Voicemail Greetings
All employees, especially those that are client-facing, should update their voicemail greeting to state when they are expecting to return to the office, and when (if at all) they will be available to meet with clients. If you're expecting an onslaught of new voicemail messages upon your return to the office, we recommend enabling Unified Messaging. Unified Messaging sends all of your voicemails to your email, with a written transcription and a .wav file if you want to listen through your email.
Looking for more? Learn how to prepare your phone system for out of office and other holidays.

Call Forwarding and Answering Rules
If you forwarded your business calls to your mobile or landline, ensure you edit your answering rules to route your calls back to your desk phone upon returning to your office. For instructions on how to edit your answering rules, visit this net2phone Canada Academy article. For those team members that are returning in rotating shifts, time frames and answering rules can be set up so that their calls are routed to their desired devices (softphone, mobile app, or desk phone) automatically on certain days or within certain time frames.