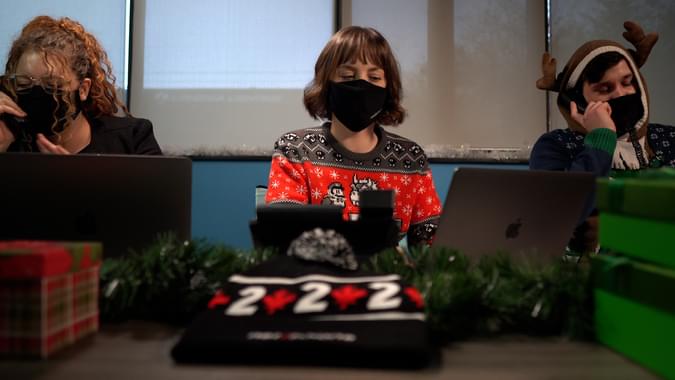 3

Friendly Holiday Out-of-Office Phone Scripts – Pick One!

Written by: Nick Arcuri

'Tis the season to be busy with gift shopping and organizing your holiday feast–just to name a few tasks. Don't forget to keep your customers informed when they call your business by preparing automatic replies through an out-of-office holiday voicemail message!
December is here, and many holiday festivities are already in full swing. That means it's time for urgent matters–preparing your holiday phone greetings. We understand the hustle and bustle of this season, but don't let your out-of-office message remain under wraps. We're here to ensure your phone greeting tasks are not worrisome and get checked off your to-do list, giving you more room to enjoy those holiday cookies!
Guarantee your clients receive an on-brand, engaging call experience even while you're away!
Why Use a Holiday Phone Message?
Let customers know you value their business.

If callers do not receive the right information as to when you'll be returning, they may never call back.

Ensure that all those calling you, whether they're current clients or potential clients, receive a on-brand message.

Use the opportunity to promote holiday deals! (Did someone say Boxing Day Deal Promotions?!)
What Should You Say in Your Automatic Reply?
Worried about what you should say in your out-of-office phone message?
We have you covered!
These are 3 Friendly Out-Of-Office Holiday Phone Messages You Can Use Right Now:
#1: The Holiday Cheer–Throw A Little Flair into Your Voicemail Message
Spread some holiday cheer anytime someone calls you (or your team), and feel free to be inspired or use our cheerful example, while still giving the caller information as to when you'll be returning their call.
Example:
"Happy holidays from Ranch Digital. Sorry we can't come to the phone right now, our team is wrapped up in a snowball fight, but as soon as we crown a victor, we'll get back to you. Probably after January 4th. Just leave your name, number and don't forget to spread some holiday cheer!"
#2: The Personal–Perfect For Your Individual Holiday Greeting
Want a Holiday greeting to use on your own extension while you're away–give this one a try! Further, give your customers a contact they can speak directly to in case they are in need of immediate assistance.
Example:
"Hello, you've reached (name). I'll be out of the office until January 4th, for immediate assistance please forward your message to my assistant Sarah and ext. 323. Happy holidays and I look forward to connecting with you in the new year."
#3: The Professional–Keep Things Formal for Yourself or Your Team
This approach is a favourite. Straightforward, to the point–you're giving the basic details: a greeting, your company name, and a date range for when you (or your team) will be away, and when you'll be back.
Example:
"Thank you for calling Green Industries. Our staff are currently out of the office for the holidays, but please leave us a message, and we'll get back to you when we're back on January 4th."

How To Setup Your Out-Of-Office Voicemail With SONAR
1. Create Answering Rules For Your Time Away
Maybe you want your calls to go straight to voicemail where contact information can be shared, forward them to a mobile phone, or perhaps even send them to Santa Claus himself (we are not associated with the big guy, but could help make an introduction.)
Whatever is right for your business, we've got you covered. It's super easy to set up scheduled out-of-office voice messages and set them to your exact business needs, creating a seamless phone experience for your customers.
Learn more about net2phone Canada's step-by-step guide to creating answering rules and setting time frames here.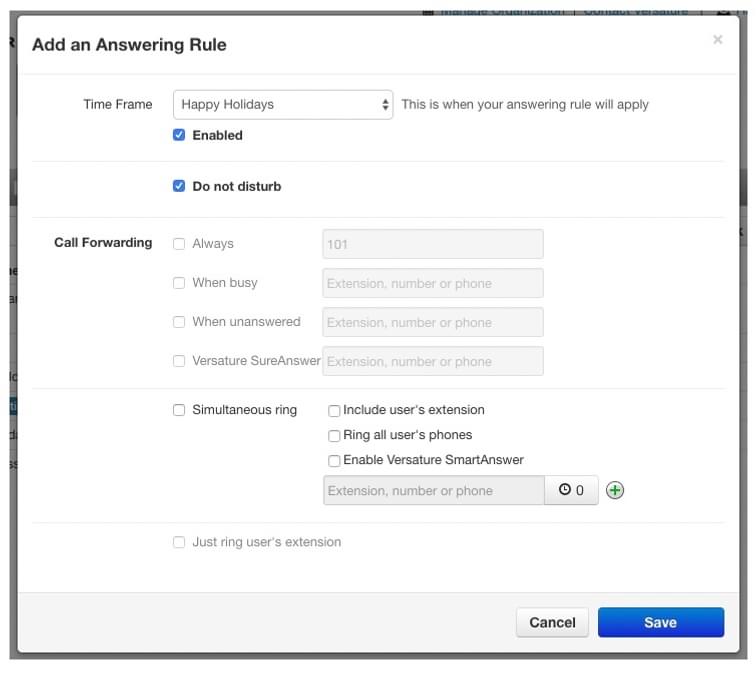 2. Configure Your Holiday Voicemail Setting
Set up an out-of-office voicemail greeting faster than you can sing "Jingle Bells". Inform clients that you'll be away and when you plan to return their message. If you're in the festive spirit and want to spread some holiday cheer, include some warm wishes in your voicemail! Curious about how easy it is to add a voicemail greeting? We've got you covered - Setting Up Your Out-Of-Office Message.
Voicemail Tip - Want to keep up with work while you're away? You can enable Unified Messaging through our net2phone Canada platform, SONAR, and receive all your voicemails as a written transcription (along with the audio) delivered straight to your email.
BONUS TIP: Attention Office Managers
Holidays past had Office Managers recording an entirely separate greeting, but the latest technology of holidays present allows you to create an auto attendant easier than ever before! Now all you have to do is add an "Intro Greeting" that will play before your recorded message.
For example, your voicemail message may start with, "Thank you for calling, carefully listen to the following options." With a holiday intro greeting, you can place a message before the remainder of your greeting, "Happy holidays from our company!" followed by your regular voicemail message that notifies people where to navigate to.

If setting up your out-of-office message isn't giving you holiday joy, it's time to consider switching. Check out our Step-by-Step Guide to Choosing a Business Phone Solution–our gift to you.
Happy Holidays from all of us at net2phone Canada!
About the Author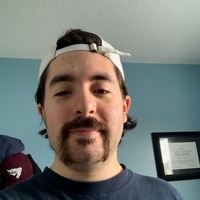 Nick Arcuri | Communications & Content Specialist
Nick is a lover of all things advertising, business, sports, social and video. He pretends to know his cocktails in public and gets lost in F1 race strategies every other weekend. For the times he is not visually storytelling, his marcom-focused mind revolves around what user-friendly communication solutions can offer our clients through the cloud, regardless of their industry.