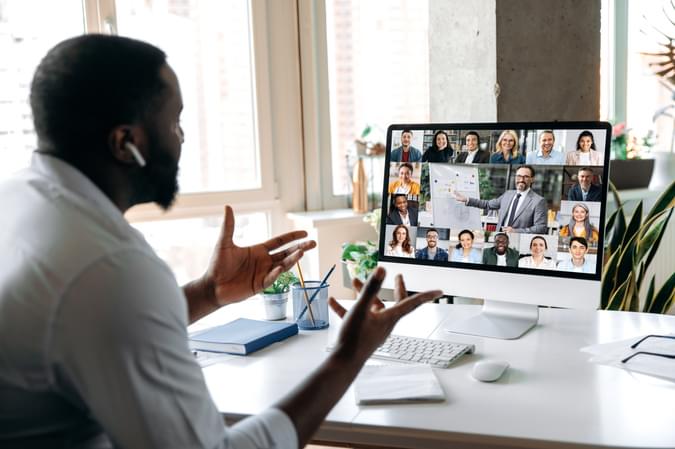 What is Video Conferencing: Definition, Benefits
&

FAQs

An information-packed guide on everything you need to know about videoconferencing. Plus, 9 convincing reasons your business should be using it.
Our ability to video call anyone in the world with a device we carry in our pockets feels almost science fiction-like. And yet video conferencing has become part of our everyday lives both in and out of the office.
The rise of hybrid, remote and global work has largely fuelled the need for video conferencing systems in the workplace. Data scientists predict that 25% of all professional jobs in North America will be remote by the end of 2022. Because of this, video conferencing will undoubtedly become a necessity for every company.
What is Video Conferencing
Video conferencing is a virtual meeting where two or more people communicate over the internet using audio and video. Participants can see each other on screen and communicate in real-time from every corner of the globe.

What Is Video Conferencing Used For
Video conferencing provides an alternative to in-person meetings and interactions. It is perfect for distributed teams or conducting business with people outside the organization.
Let's take a closer look at some of these uses.


1:1's, Team Meetings and Town Halls:
With 32% of Canadian employees aged 15-69 working mainly from home in 2021, having the right tools is clearly essential. In-person meetings may not be possible due to a variety of reasons including geographic location, health concerns or remote work. You can use videoconferencing for 1:1 meetings, team meetings, or town hall meetings in these situations.


Job Interviews
Video conferencing with potential hires allows managers to screen candidates quickly and effectively. Candidates don't have to travel, so scheduling becomes easier, and the hiring process goes much quicker.
A video format also allows hiring managers to pick up on nonverbal cues and communication styles in ways that aren't possible with an audio-only call.



Sales and Product Demos
For product demos, video conferencing technology is very effective as it allows you to see each other, share your screen, and share media. By eliminating travel, sales reps can perform more demos and sales calls.



Training and Development
You can have employees dispersed worldwide and still have everyone come together in real-time over a video conference. Businesses can train a large number of employees without travel and accommodation costs.



Meeting with External Partners
Collaborating and working with people outside your organization is a normal part of doing business. Whether with vendors or external partners, video conferencing allows parties to meet quickly, build relationships and conduct business in a time-effective way.
What Are The Benefits Of Video Conferencing?
1. Save On Travel Expenses
Most organizations travel to customers, partners, and vendors for business purposes. There are, however, considerable expenses associated with such travel. Airfare, lodging and gas allowance are just a few common expenses. In-person meetings may still be necessary, but some meetings can be virtual to reduce expenses.


2. No Expensive Conferencing Equipment
With high-speed internet and HD cameras built into our devices, video conferencing is now more affordable and accessible than ever before. A cloud video conferencing software or application is all you need to hold video meetings on your devices. In the past, only large corporations could afford the expensive and robust equipment, software and network requirements needed to videoconference.
While there are many free video conferencing apps, businesses should ensure they are using an encrypted and reliable business-grade video conferencing tool.
Additionally, companies can also save money by choosing a unified communications platform that offers more than just video conferencing, such as phone, messaging, and call center features in one.

Related: The Ultimate Guide to UCaaS: Unified Communications as a Service
net2phone Canada Pro Tip:
Huddle users can be confident in their call security. Media traffic is encrypted with DTLS-SRTP, and Huddle has a Grade A score on security protocols from SSL labs, and no data gets sent to third parties.
3. Save Time
With endless email chains or instant messaging, key information can get lost or misinterpreted. In an important team project, this is the last thing you need. Video conferencing is excellent because you can share important details with others in real time and ensure everyone is on the same page. You will spend less time on misunderstanding and complete projects more efficiently. Easy to Schedule If you've tried scheduling meetings with teammates who travel or work in different time zones, you know how challenging it can be! But the ability to join a videoconference from anywhere with internet access means that your colleagues can join whether they are in a hotel, restaurant, coffee shop or home.
4. Easy to Schedule
If you've tried scheduling meetings with teammates who travel or work in different time zones, you know how challenging it can be! But the ability to join a videoconference from anywhere with internet access means that your colleagues can join whether they are in a hotel, restaurant, coffee shop or home.

Net2phone Canada Customer Pro Tip:
Easily schedule meetings from the Huddle interface or through the Google Calendar and Microsoft Outlook extensions. No matter how you schedule, you can get local dial-in numbers for nine different countries.
5. Better Communication & Relationships
Because 55% of communication is non-verbal, audio-only conversations can feel impersonal and ineffective compared to seeing the person you are talking to. As you watch the person you're conversing with, you can pick up on visual cues and body language and improve the quality of the interaction. This can be helpful when doing performance reviews, 1:1 meetings or meeting prospects.
You can also share your screen and share documents or visual information that can support your conversation. By doing this, you can help reduce misunderstandings.
Net2phone Canada Customer Pro Tip:
Huddle is a 100% browser-based platform, so you can invite outside users to join meetings without downloading any software.
6. Enhance remote collaboration and productivity
Having remote workers on your team doesn't mean they can't or shouldn't work and collaborate together. Siloed approaches hinder innovation, which is vital for company growth.
With video conferencing features, you can hold meetings and presentations as if you were in a traditional conference room. You can share your screen, chat within the platform, and share documents and supporting information. Everyone can collaborate, make edits to documents, and take part in the discussion, so more work gets done in real-time.
Related: 3 Winning Tips for Remote Cross Team Collaboration
Net2phone Canada Customer Pro Tip:
Use the "raise hand" option to give everyone their turn to speak. You can also use emoji reactions like a thumbs up to show support and acknowledgement without interrupting the speaker.
7. Host Live Events
Companies can reach more people when they host conferences, client webinars, shareholder meetings, or employee training. Live events can boost brand awareness, improve employee performance, and help you build relationships, all of which will benefit your business.

Net2phone Canada Customer Pro Tip:
Connect your Huddle meeting natively to a Youtube live stream when you need to broadcast, perfect for an annual general meeting (AGM) or a webinar.
8. Recruit better talent
The ability to hire employees from anywhere in the world is extremely valuable for companies that want to attract and retain top talent. With remote work capabilities, you are not limited to candidates in your region; instead, you can select from a wide range of skilled candidates.


9. Face-to-Face Conversations with Anyone, Anywhere.
By bringing people together, your organization can connect global teams and expand its customer base. Your video conferencing tool can help you work with international vendors and experts to grow your organization.
Net2phone Canada Customer Pro Tip
The Huddle apps for iOS and Android enable Huddle video conferences from mobile devices and are available for free from the App Store and Google Play.
What Hardware Is Needed For Video Conferencing
You need the right equipment for a seamless video conferencing experience. Luckily most of this equipment is already built into your devices.
An Internet Connection
Everyone on the call needs to have a strong internet connection. If there is a weak connection, you can experience audio and visual lags, which can disrupt or end your meeting.
Camera
Today's laptops and desktops already have a built-in camera to capture video. If your device does not have a camera, you can use an external webcam.

Display Screen
You will need advice capable of broadcasting your video image. You can use your computer screen, a monitor, laptop, tv screen or projection device.

Microphone
To transmit audio, all parties will need to have a microphone. Again this is commonly built into laptops and desktops, but if you have a device without a microphone, you can use an external USB microphone.

Speakers
You will need to use your computer, laptop, headphones or external speakers to hear the audio.
Net2phone Canada Customer Pro-Tip:
Reduce background noise and enhance your call experience with a dedicated headset. Choosing a headset with a noise-isolating microphone will ensure that your call won't be disturbed by background noise. View headset options here.
How Video Conferencing Works Technically
Video conferencing allows video and audio to be transmitted between multiple locations. First, the camera and microphone capture analog audio and visual inputs. Once captured, codecs compress this analog data into digital packets. This compression is needed; otherwise, it would take up too much bandwidth to transmit the data. The data is transmitted to the other meeting participants over the internet. This is done through the provider's server to ensure everything gets routed as intended. After the digital data reaches the endpoint, it is decompressed and converted back to analog audio and video, which can be viewed and heard by participants.



Final Thoughts: The Future Of Video Conferencing
Video conferencing will increase in demand as hybrid, remote, and global work expand. The ability to save time, cut costs and mimic real-world conversations with anyone worldwide is a powerful capability for any business. By leveraging meeting solutions, any organization can improve processes, collaborate better and watch profits increase.
FAQ
How Many Companies Use Video Conferencing?
Remote work increased dramatically during the pandemic and quickly became essential to facilitate virtual work. Statistics show that 78% of corporations use video calling software, with 45% of teams using video calling daily or weekly.
What Is The Difference Between Web Conferencing And Video Conferencing
Web conferencing is an online event, webinar, webcast, or presentation with only one or two presenters and little to no collaboration. The goal of web conferencing is to share information. Examples include a professor teaching an online course or a CEO presenting year-end results.
With web conferencing, an unlimited number of viewers can usually join the session with just a web browser and a link. There is typically no software or hardware installations necessary.
Video conferencing, on the other hand, is done with two or more remote participants and requires some type of software application. There is a limit to the number of participants, and the main objective of these kinds of calls is to communicate and collaborate in real-time.
Save time, save costs and increase efficiency with an all-in-one communication platform. Book a demo today to view how our talk, text, video and call center platform can help your organization connect and collaborate for success.