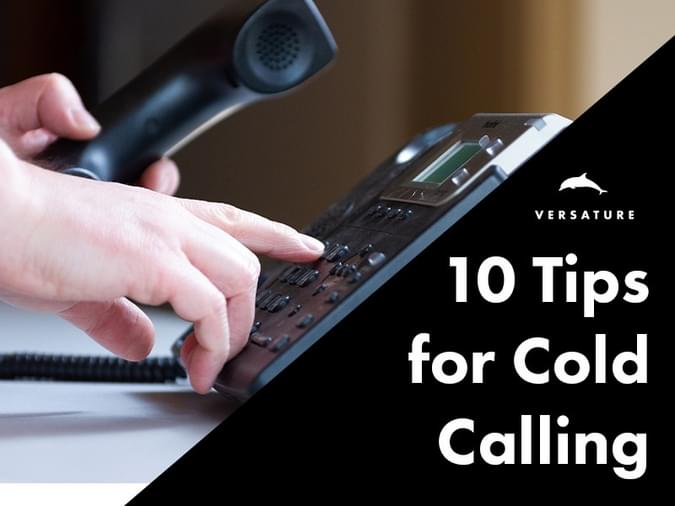 How to Turn a Cold Call into a Hot Prospect
Don't know where to start when attempting to master the art of cold calling? Not to worry. net2phone Canada's got you covered with these 10 tips on turning a cold call into a hot prospect. Granted, this takes a bit of practice, but your future self will be thankful for taking the time to understand the best techniques when communicating with prospects.
Be Direct
Don't overload your conversation with too much small talk. After all, we both know that you didn't make the call to go over the 7-day forecast. Excessive small talk gives the impression of wasting time, and that's the last thing you want to do. Get to the point, and own the disruption you are making. Let the other line know why you're calling. Open, clear conversations are the best way to go. Make it a goal to get vital caller information first.
Ask Questions
Ask open questions, not 'yes' or 'no', closed ended questions. These 'yes' or 'no' questions allow no room for the conversation to keep moving forward regardless of the answer. Foster more communication by asking open ended questions that will further progress the conversation forward.
Ask About Use Cases
Discover their use cases and how they use their existing service/product. Knowing this information will eliminate the time recommending products and services that do not align with their needs. Spend less time knocking competition, or how they are experiencing weaknesses without your business, and more time analyzing where your product or service can further their success.
More Calls, More Prospects
Sometimes, it's a numbers game. ""You miss 100% of the shots you don't take" - Wayne Gretzky" - Michael Scott
Add Value
It's not always about selling, but gaining trust and becoming a thought leader with your potential customers. Seems like the conversation isn't moving along as expected? Provide advice and tips, not necessarily your solution. This will let the other line understand that you can provide value.
Conversation Transition
See the transition in the conversation as it goes on. A great indicator that you are making headway on developing a qualified prospect is realizing the moment when they are asking more questions than you are. Grab their attention and keep them interested.
Own Conversation
Dictate where conversation is going by feeling out the responses. If it's not the right fit, don't be afraid to call it out.
Be Direct With Next Steps
Try using verbal contracts or mini agreements where applicable. This sets the tone post-conversation about your commitment in providing a solution.
Instructions for next steps
Own the follow through and trust your prospect, so they trust you as well. Sending them a follow up will further instill yourself as a leader and make the prospect feel like they are working with you, as opposed to against you.
BONUS TIP: Water Bottle Sip Technique
Finally, the fun one. Create that micro gap in conversation with this psychological tactic that will get their mind thinking. Taking a "sip of water" in between each time you go to speak creates the perfect gap that lets the prospect know you heard them, but might actually spark them to continue speaking and continue the conversation. This one is tricky and requires practice, but is extremely important and can lead to positive results when transforming a cold call into a hot prospect.
These tips wouldn't be complete without analyzing the results post-call, finding trends, relaying those trends back to your team and repeating the process. With net2phone Canada Performance Wallboards, managers will be able to provide an environment to build team, management, and executive level dashboards to showcase call performance and trends on wall screens, desktops, or on mobile devices. Check out more on our Performance Wallboards right below!