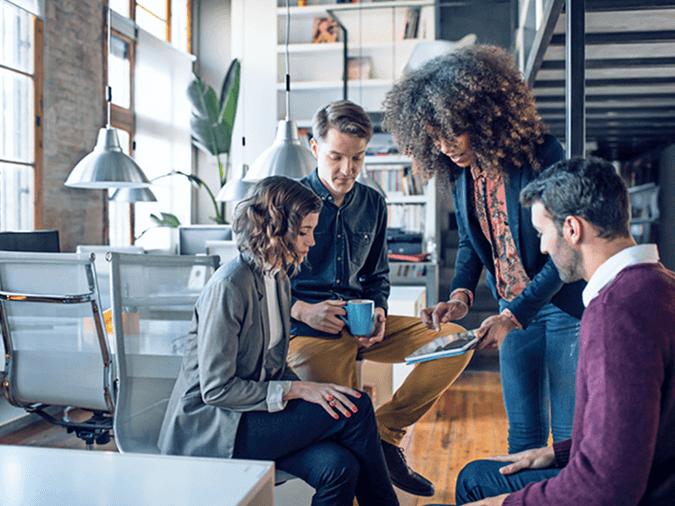 6

Misconceptions About VoIP

There are any number of events that can trigger a communication solution overhaul, from office moves or expansions to decaying technology and rising costs. Whatever your situation may be, it may be time for a change. But who or what do you replace your business lifeline with?
Switching from one essential business solution to another can have a huge impact, especially when that business solution is the backbone of your organization's communications. There are any number of events that can trigger a communication solution overhaul, from office moves or expansions to decaying technology and rising costs. Whatever your situation may be, it may be time for a change. But who or what do you replace your business lifeline with?
As more and more Canadian organizations turn to unified communications solutions to power their business, it's no wonder VoIP has emerged as a top-of-mind technology choice. While seemingly a mainstream option, a lot of business and technology leaders are still hesitant to make the jump. Why? They've likely either been burned by a faulty VoIP provider (trust us, there are many out there) who sold them on big promises that they couldn't keep, or they've been misinformed on how VoIP will impact their business.
Let's take this opportunity to debunk some common myths and give you the truth about the world of VoIP Communications.
1. VOIP HAS POOR CALL QUALITY
Voice disruptions, latency or disconnections can occur in any phone system, but when it comes to VoIP, it boils down to the quality of the internet connection. If you're using a connection that is under significant strain, you may experience some call quality issues. Most of the time, quality issues can be resolved quickly with a change in network configuration, but sometimes VoIP clients may need to look into a more robust connection. In any case, superior high-definition VoIP call quality is available today at a fraction of the cost of your existing solution. Your VoIP provider can point you in the right direction when it comes to connectivity.
2. VOIP SYSTEMS ARE DIFFICULT TO CONFIGURE, SETUP & MAINTAIN
Think back to days of traditional analog systems. Those gigantic, clunky pieces of telecommunications machinery were a pain to setup and maintain, which is why many service providers are no longer supporting them. With VoIP, IT departments and MSPs can breathe a sigh of relief! All system configuration is handled by your VoIP provider to ensure that when your phone arrives, or app is downloaded, you can simply plug it in and your solution will be up and running within minutes. Maintenance is not required as updates are automatically pushed to all devices by the service provider, and support is managed remotely by a team of dedicated VoIP experts.
3. I'LL LOSE MY TELEPHONE NUMBER IF I SWITCH PHONE SYSTEMS
A telephone number holds a lot of brand value, so of course, keeping the existing business phone number will be a necessity for businesses transitioning to internet-based phone services. With VoIP, you can port your number over to whichever provider services your area, meaning your brand will maintain consistency while you enjoy the additional benefits that VoIP can offer.
4. VOIP IS EXPENSIVE
When switching from an analog system to a SaaS-based service with a monthly pricing model, there are many things to consider. Complex on-premise PBX systems or even business land-lines result in a huge upfront expense. Don't forget the additional cost of IT staffing, plus frequent support and maintenance costs.
One of the biggest draws towards cloud-based VoIP is the cost savings these systems afford their users. Due to the Internet-based nature of the phone system, charges on long distance and international calls are either reduced or eliminated entirely. Costs associated with maintenance and software upgrades are also minimal as updates are automatically pushed to the phones by the service provider and support is managed remotely. Web-based updates coupled with a specialized support team managed by your service provider reduces the amount of resources that need to be invested with an in-house or outsourced IT team. It's an especially great deal when you proceed with a VoIP vendor who includes free phone rentals within your bundle, so there is no cash outlay for hardware.
5. VOIP OFFERS NO FLEXIBILITY
We've been operating in an environment where large-scale, advanced business solutions are often untouchable after implementation. With contracts, proprietary hardware and service terms locking you in, inadequate or inaccessible technical support, and technical complexity that is beyond the scope of the average user, some have accepted inflexibility as the status quo. Lucky for you, cloud solutions are up for the challenge.
With cloud-based VoIP business communications, not only is the system flexible to accommodate growth, multiple locations, remote workers or new features, but it can be done in minutes! Imagine the process to do all of those things with an on-premise PBX or land line solution? Just adding a new feature or a new employee would require site visits, more hardware, and severe headaches. VoIP enables quick and easy moves, adds and changes (MACs) in your business with a quick call to your provider and all of the system changes can be done remotely or through self-configuration via a customer portal!
To top it all off, many VoIP providers also offer mobile apps or softphone functionality. No need to be confined to the four walls of your office. Now you can increase business travel or work remotely while taking your extension with you wherever you go, without the hassle of bringing your desk phone along.
6. VOIP SYSTEMS ARE STANDALONE AND NOT INTEGRATED
Why choose a unified communications solution? It leverages the activity and call data generated through your VoIP solution with your other frequently used applications. For example, clicking to call in your browser, making and accepting calls while automatically logging the call activity within your CRM system, and gaining more insight and context with social caller ID. Cloud hosted solutions open the door to potential value added integrations. With open API's and numerous platform integration options available, there's no reason your business communication solution needs to operate as a standalone system. Ask your provider how you can leverage your call activity within other solutions.