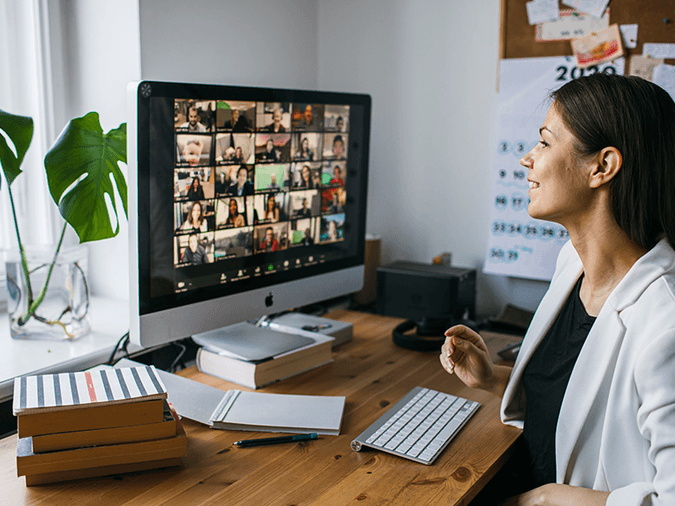 5

Secrets to Hosting Productive Video Meetings

Video conferencing is the closest replacement for in-person meetings and serves as a critical tool for remote employee collaboration and communication. Follow these tips to for hosting successful and productive virtual team meetings:
The adoption of technologies that augment the work from home experience has become imperative for businesses of all sizes to remain competitive in a world that has gone remote. While teleworking offers many notable benefits, there are various challenges that are bound to arise when teams are collaborating from different geographical locations. According to the Remote Work Report, communication is listed as the #1 problem faced by remote and distributed teams.
There are a variety of cloud-based tools that teams can leverage to enhance communication, such as phone calls, messaging platforms, or even social media. But what really drives engagement is the ability to have face-to-face interactions with the people you work with. Video conferencing is the closest replacement for in-person meetings and serves as a critical tool for remote employee collaboration and communication. Follow these tips to for hosting successful and productive virtual team meetings:
1. Set rules and guidelines
Few people are well-versed in the etiquette of virtual meetings. From excessive heavy breathing (when did Darth Vader join the sales team?), to slurping through a straw, or having their dog bark in the background. Even a Supreme Court Judge forgot to mute their mic as they flushed a toilet during an argument, making headlines across the Globe. Virtual meetings are bound to have some challenges, but setting rules and guidelines beforehand can help alleviate distractions. Here are some examples of remote meeting guidelines that you can use with your team:
Turn your camera on so participants can see your face.
Refrain from eating or drinking during the meeting. If necessary, make sure to mute yourself.
Mute your mic when somebody else is speaking.
Maximize the video screen to relieve distracting apps on your computer or phone.
Find a location with limited background noise.
Respect your team's time and let them know if you're unable to attend.
Schedule the meeting in everybody's calendar at a mutually convenient time.
2. Have a focused agenda
Nearly everyone can relate to sitting through a meeting and thinking to yourself "this could have been an email". While the content may be relevant, it's often the lack of preparation that leaves people feeling as though their time has been wasted. Sending a focused agenda when coordinating the meeting will allow participants to prepare required materials in advance and ensure everybody stays on topic and within the scheduled time.
In the agenda, cover these questions:
What is the purpose of the meeting?
What objectives need to be achieved by the end of the meeting?
How will actions be recorded, communicated and followed up?
What are the required talking points to ensure all topics that need to be addressed are discussed?
Not only will the agenda set the precedent for achieving the meeting's goal, it will also dissipate a lot of time wasters and the back and forth that typically throw a meeting off track.
3. Designate time for personal conversations
Many of us went from seeing our colleagues in-person 5 days a week to virtually every once in a while. Although everybody looks forward to seeing each other over video, it's important that the catching up with colleagues doesn't overtake the meeting. Designate 5-10 minutes at the beginning or end of a meeting to share personal news or stories. If your team is really missing the personal interactions, consider setting a weekly or bi-weekly meeting strictly dedicated to casual conversation. Not only will this help free up the minutes required to achieve your meeting's goal, but it will also improve your employee relations.
4. Appoint a note taker and assign action items
It's easy to get lost in the excitement of new ideas. So much so that when you leave the meeting, participants aren't quite sure who is responsible for what. Taking meeting notes is especially important with distributed teams. Having a centralized record of topics that were discussed and a list of assigned priorities will keep everyone on track. Before you conclude the meeting, ensure you go over each task and assign action items and due dates. Following the meeting, send the notes to each team member and if using a project management platform like Asana, Trello or CoSpace, upload the tasks to the platform.
5. Encourage the use of video conferencing features
Ensure you're using your video conferencing tool to its full potential! Video conferencing platforms typically offer a variety of features engineered to provide a productive and interactive virtual meeting experience. Encouraging the use of features like 'raise hand option', which lets the meeting participant know you have input or a question, is an effective way to enable people to participate without interrupting one another. The moderator audio controls, which are included in most video conferencing solutions, enables moderators to seamlessly mute participants to avoid distracting background noises and having to constantly repeat. Take the time to play around with your solution's features, integrations and functionality and take advantage of them.
net2phone Canada's video conferencing solution, Huddle, allows users to virtually meet and screen share easily and securely through their browsers or mobile devices with both internal and external users. With up to 50 participants, Huddle's user-friendly platform can seamlessly connect you to your clients, partners, and colleagues around the globe with no downloading required.