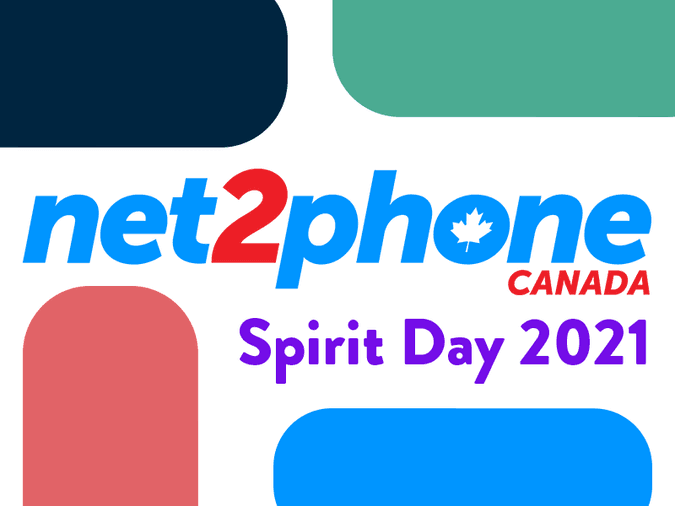 net
2

phone Canada Spirit Day Recap
Yes, you heard correctly! We've officially rebranded. What was once Versature is now officially net2phone Canada, and that is worthy of a big celebration. After being acquired by net2phone in 2018, we knew that this would be an exciting time coming, not only for our whole staff, but for our awesome partners and clients. To celebrate our new identity (leading up to our launch date of February 8th, 2021), we decided that the best way to engage our remote team was to hold a fun and friendly competition, in the form of a net2phone Canada Spirit Day. One full day of celebrating our new journey and what's to come, complemented by a list of awesome prizes that could be won by participating in fun and friendly challenges. Granted, with the scope of today's work environment, this had to be something that our team could enjoy virtually, and did they ever. Here's a taste of how net2phone Canada kicked off our rebrand.
The Plan
For starters, we created a Slack channel that was dedicated to Spirit Day and was used for all of our challenge submission. Members from our marketing team organized the challenges based on a points system, awarding higher points for more out of the box challenges, while lower tier challenges were completed simply by sharing our social channel posts about our rebrand with a custom #wearen2pCanada Spirit Day hashtag. The creativity that exists within our team and across our various departments never ceases to amaze us, especially with some of the submissions we received when it came to embracing our new brand. See for yourself:
Swag Challenge
What kind of swag do you gift your all-Canadian team? Hockey sweaters and Roots toques, of course! One of our challenges was to submit a photo of ourselves decked out in our newly acquired net2phone Canada Swag, and boy did the team come through.
Cocktail Challenge
Feeling blue? Not anymore. Our net2phone 2Sunami cocktail challenge was one of the best ways to enjoy such a big success, and our team ended up submitting some very appetizing variations.
Hair Dye Challenge
Let's face it, dying your hair can completely change your look, and that is exactly what we wanted, for our brand at least. Whether it was legitimate or through the magic of technology and filters, our team had a blast challenging themselves to see what their hair would look like with net2phone Canada colours.
Donation Challenge
net2phone Canada gives back! Supporting nonprofits and charitable organizations has been a core value at Versature, and one that we will uphold under the net2phone Canada name. Team members that donated any amount of money to a local charity of their choice won 15 points. Thanks to our Spirit Day participants, our team donated to some incredible organizations like the Ottawa Food Bank, the Boys and Girls Club of Canada, Habitat for Humanity, Minwaashin Lodge, the Ottawa Mission and many more!
Other Challenges
Below are some of the many other challenges we completed. Let's see if you can guess what they were.
Needless to say, we have an incredible team, and we're continuing to grow! Explore our Careers page to view our opportunities.