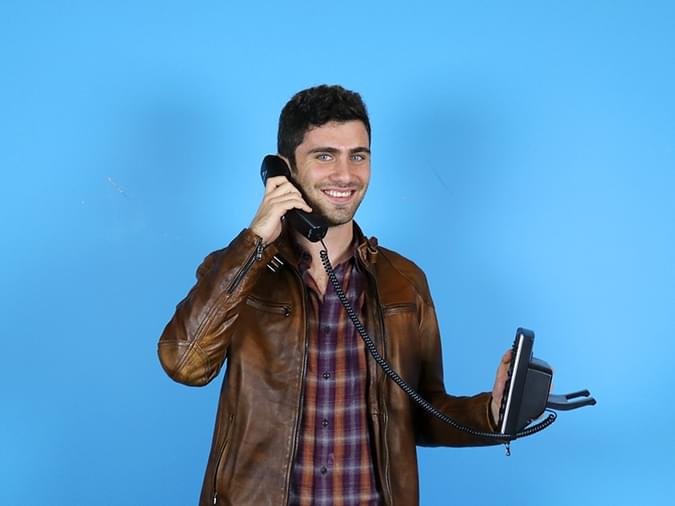 Remote Management Q
&

A Series: Sales Development Representatives

In the Remote Management Q&A Series we interview business leaders to learn from the strategies and tools they're implementing as they navigate managing a remote team.
Managing an SDR/BDR Team Remotely
Transcript
Ziad: Thanks for tuning into our Remote Management Q&A Series. Each episode we'll be interviewing one of our Versature managers to learn more about the strategies, tools and features they've been implementing as they navigate leading a completely remote staff. To start off, I wanted to thank everyone who made the decision to work from home and distance themselves as the Covid-19 pandemic continues. We know this is a challenging time and we're all in this together!
The first team that we're going to cover is the Sales Development Team, also commonly known as a Business Development Team. A Sales Development Team is typically the first introduction that a prospect has with your company, and serves as a really critical component to the overall sales process. Here at Versature, we're always acknowledging that the sales development position is one of the most challenging roles in our entire company as they're constantly facing objections. However, we also know the value this team brings to our organization is one of utmost importance.
In this interview I'm excited to introduce Corey Klein, Versature's Sales Development Team Lead. He is responsible for the day-to-day of the team, providing ongoing training and coaching to the SDRs, supporting them with new strategies and content, and assisting them with challenging scenarios. As a former SDR himself, he really understands the ins and outs of the role, the pain points associated with cold calling, and the right strategies to turn a cold lead into an engaged prospect. Corey, thanks for joining us.
Question 1
To start off, can you give us a little bit of background on your career and how you became the Sales Development Team Lead at Versature?
Absolutely - I've been at Versature for just under 2 years, and becoming an SDR here was actually my first job out of school. I worked for over a year as an SDR before moving into the team lead role. My year as an SDR was a real sales bootcamp, learning everyday from boots on the ground experience, and from exposure to some of the best sales talent in the city.
Question 2
Given how quickly the virus spread to Canada and all of the urgency to distance yourself as immediately as possible, few business owners have had the luxury of taking their time to strategize and create a functional remote work policy. We were very lucky in that we had existing work from home procedures, and that all of our teams were already operating on flexible technology that allows us to work remotely. However, it was still a rapid transition. How did you prepare your team that day?
Myself and our manager Dan Nielsen had been preparing for the reality of this for a few weeks. We had to make checklists for each of our team members to ensure that they would be prepared to work from home and maintain productivity. Luckily, due to the nature of what we're selling, this was a relatively painless transition. All our reps had to do was plug their phones out and bring them home along with their laptops. In 1-1s leading up to the work remote, we had ensured each individual team member that they felt comfortable with their work from home set up. We then made sure to hold a video call as a team and check in with everyone individually to make sure that we were all set up for success.
Question 3
A lot of managing a team of sales development reps or business development reps involves listening to their cold calls and pitches, which is easy to do when you can jump in with them in the office, but how are you managing this task remotely?
Luckily, this part of my job has simply not changed. Using our Versature Insights solution, I have been able to seamless continue monitoring and coaching the activities of our reps. I'm able to access and listen to call recordings from anywhere. I am particularly interested in how our reps are dealing with the Virus in their conversations, to ensure that it's handled with care, so I have been leveraging the intelligent transcriptions in Versature insights, and searching for keywords in our conversations to review.
Question 4
Oftentimes, the secret to creating a high-functioning and high-performing sales development team is being strategic with our data. What sorts of data points are you looking at on a day-to-day basis and has this changed since leaving the office?
This as well has not changed. Our two main activity KPIs are calls per day and average talk time. Using Versature Insights, we have a wallboard dedicated exclusively to those statistics for our team, and we have been able to access those remotely with no issue. We are trying to focus on the small wins, we know that not everyone is buying mode or able to implement a new solution right now, but if we can start to build relationships and gather key information, it will only pay off in the future.
Question 5
With all of the commotion going on, few people are prioritizing purchasing new software for their team. This makes for an especially challenging time for B2B SDRs that are used to people actively searching for the services they're selling. What strategies have you implemented to increase the number of outbound leads?
This has obviously been a big point of discussion over the past week. We are lucky to work at a company where our solution truly helps businesses in their day to day. People need help like that right now. They need ways to make their lives easier, communicate with their co-workers, understand what's happening at their business and be able to prepare for the coming weeks/months. Obviously it's not "business as usual" for our sdrs, but with a focus on empathy and compassion, I truly believe that we are in a strong position to help Canadian businesses. As a team, we are trying to stay top of mind and differentiate ourselves as a partner that isn't viewing them as a means to an end but rather as an end in themselves. That is my favourite part about Versature. When I had started everyone told me that it's a customer service organization first and a sales organization second, which I assumed was standard jargon, but then soon came to realize was the predominant value of our company. Most recently, I was so impressed with how our Development and Customer Facing team were able to speed up their timelines and release our Sonar web phone and conference pod calling to all of our clients at no extra charge just to make this transition to remote work even easier.
Question 6
I would expect an important part of being a sales team lead is to be there for them, encourage them and hype them up. Now more than ever I expect this is a crucial part of your role. What are you doing to keep them motivated?
In my opinion as a sales leader, you shouldn't need to do anything to motivate your team, but rather just not do anything to demotivate them. If you have to keep them motivated, then you likely have the wrong team in place. We are lucky to have a group in place that are hungry and ambitious people. As we work remote, my goal is to make sure that they feel supported and appreciated. On a good day, this is a particularly tough job, but in the current climate, and working from home alone, it is especially tough. I am so proud and confident in the team we have for their perseverance through the first week of work remotely, and have no doubt that they're properly equipped to be successful moving forward.
Question 7
Our SDR team is a pretty tight knit group. They frequently share their success stories, keep each other accountable, and collaborate with one another. Is there still a sense of team comradery? How do you keep this up?
We are so lucky to have the culture we have built in this sales room, it's unlike anything I've experienced in other organizations. Not only does our team get along extremely well within the room, but we see lots of them become friends outside of work as well. This cohesiveness is an essential part of our culture.In order to maintain this, we have been doing daily team huddles to share successes and challenges, and ensures that we are sharing knowledge as a group. But what is even more meaningful is that they have been breaking off as a group this past week and meeting as a team without us enforcing it. As I mentioned before, this is an extremely challenging job, and we've seen that the best way to work through it and grow from it is to work as a team and grow together.
Question 8
A few days before our employees transitioned to a remote workforce, you welcomed a new SDR to your team.
Typically, when new SDRs join, you have them sitting in with our more senior SDRs to listen to their calls, you schedule meetings with other departments so they can become better acquainted with Versature as a whole, and provide them with resources so they can get the ball rolling. Because the future is so uncertain and companies are beginning to question exactly how long it will be before returning to the office, it's likely that businesses will need to hire remotely and onboard those team members from a distance. What was the process like in onboarding Sam and what tips would you give to managers to best prepare their new members for their role when you're not physically there with them?
I'm not going to sugarcoat it, this has been a particularly odd onboarding experience for our newest hire Sam. As I mentioned before, the driving force of our sales room is our culture. That extends beyond people getting along, and towards the support system that our team provides each other. Our initial plan was not to have Sam get rolling on the phone while remote, as we didn't want him to miss out on that part of the experience. But, now that reality is setting in, we know we have to get him started, and we know that he is ready. Luckily, our team have been extremely supportive of him and have been checking in on him and doing role play remotely. We plan to get him started on the phones soon, and myself and Dan will be using Versature's call whisper feature to make sure that he feels supported and comfortable as he gets started on the phones. I think the best advice I could give is to trust your people. If you hired a new sales rep, it should be because you believe that they have a growth mindset. And if that if their mindset, you should feel confident in their ability to learn, grow, and succeed remotely.
Ziad: That concludes our Sales Development Management episode. Thanks to Corey for sharing your insight and expertise in this area. Have questions about running your SDR/BDR team remotely? Get in touch with Corey! Thanks for listening and have a great day.
Prepare your business for a seamless and effective remote work setup with Versature's award-winning phone service. Explore our Work From Home Promotional Bundle!