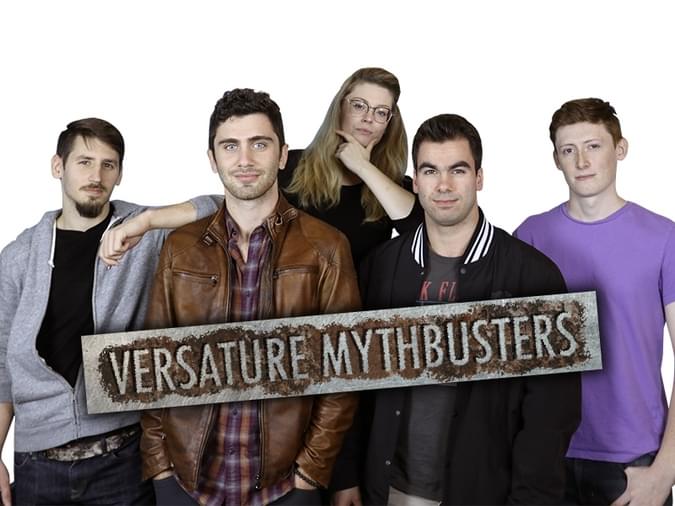 Mythbusters Volume
5

: Is Online Chat Enough for my Support Team?

To provide outstanding service, businesses need to not only invest in a tech support team who is knowledgeable about the product, but also invest in a fail-safe communication channel to be able to offer quick support.
Welcome to Volume 5 of Versature's MythBusters series, where we debunk the biggest myths surrounding unified business communications in today's technology-driven world. With multiple communication channels available for businesses to offer, it can be challenging to decipher which option will best suit the needs of your clients. While online chat has gained widespread popularity over the past decade, this medium may not always offer your clients enough support. The Versature Mythbusters are back to help end the debate between phone calling vs. online chat for your tech support team.
While some businesses carry you through the sales process and leave you hanging when your system goes awry, successful businesses acknowledge the importance of providing ongoing assistance throughout the entire customer journey. In order to provide outstanding service, businesses need to not only invest in a tech support team who is knowledgeable about the product but also invest in a fail-safe communication channel to be able to offer quick support.
According to a study conducted by Harvard Business Review, the phone remains the preferred customer service medium despite the emergence of other channels. While consumers enjoy using live chat for quick answers to simple questions throughout the sales process, innumerable studies have concluded that customers appreciate the intimacy and ongoing learning that they can only get through phone-based support.
Why should I provide a calling option?
CREATE A PERSONAL CONNECTION WITH THE CLIENT
Every successful business understands the importance of creating beneficial relationships with clients. In order for relationships to form, your team will need to create personal connections early on in the customer journey. A phone call is the closest experience to face-to-face communication which will enable that personal connection to transpire. The ability to chat openly and hear another voice will allow your support team to remember specifics of conversations which they can bring up during their next conversation. Not only do clients appreciate being remembered, but having a strong knowledge of their business' pain points will allow your support team to have a basis for which to work off of and solve the problem at a faster rate.
PRIVACY AND PROTECTION
People's preference of chat mediums tend to differ based on the topic of their question. Offering a live chat option is an effective way to answer simple queries quickly. However, clients are hesitant to divulge sensitive information like financing or passwords over the internet. The intimacy of having a direct conversation puts people at ease and will ensure a client's information is protected.
PROMPTNESS OF RESPONSE
The ability to use live chat eliminates time spent on hold waiting to speak to a tech support representative. For the customer, this results in less wasted time and less effort. However, with complex inquiries regarding account balances or passwords, users are likely to opt into a call regardless. With Versature Insights, businesses are able to add a web header to their site which enables customers to see service levels and agent availability so they can choose the optimal time to reach out to your company for phone-based support.
CLEAR MESSAGING
Communication that occurs over the phone allows for more direct conversations between tech support representative and the client. Live chat doesn't properly convey tone, and describing a question over chat can often lead to confusion surrounding ambiguity. Rather than constantly going back and forth for clarity, agents are able to ask follow up questions and gain an understanding of the client's challenges which will ultimately allow them to provide better support.
FINAL VERDICT
Now for the final verdict, is online chat enough for my support team? Potentially, but it likely won't suit the needs of all of your clients. With the telephone remaining the preferred chat method, it is best to offer both online chat and phone-based support to cover all of your bases.
Empower your Tech Support Team with a value-packed phone solution and data analysis tools. Request a demo with our Product Experts and see the Versature solution in action.
REQUEST A DEMO TODAY AND GET STARTED!
[gravityform id="65" title="false" description="false" align="middle"]