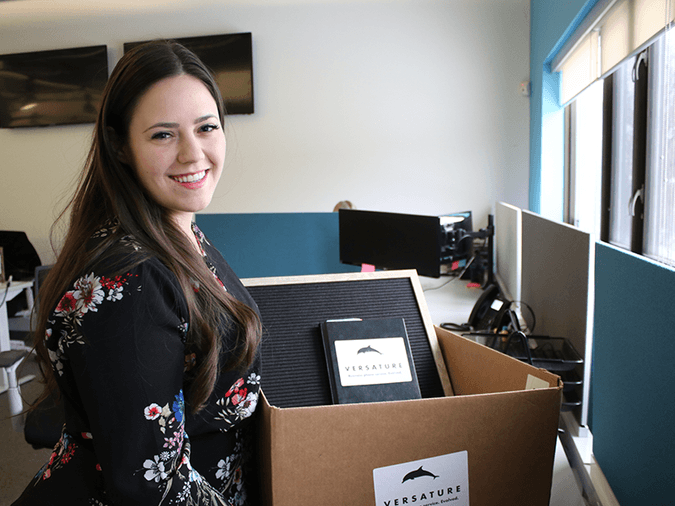 Extreme Makeover Office Edition
With the Versature team doubling in size, it was time to undergo a major office renovation! Check out our video to see the full transformation.
Since the net2phone acquisition in September, Versature has experienced rapid growth. In fact, our team has doubled in size! With our entire sales department working out of what once was our recording studio space to make room for our newcomers, it was time to undergo a major office renovation.
Over the course of 5 business days, the entire Versature team worked remotely while the renovation was taking place. We were proud to be able to donate our former office furniture to some incredible local not-for-profit organizations like the Gloucester Emergency Food Cupboard and the Parkdale Food Centre. Thanks to the plug & play functionality of our hardware, the Versature team was able to stay connected from home by simply plugging their phone into an ethernet cable! Our daily huddle never skipped a beat and we were able to video chat with the entire team at 12:52 pm through Zoom.
Even throughout the extreme weather conditions, our movers worked tirelessly to bring our new space to life! While Team V enjoyed avoiding the Ottawa 2019 snowmageddon and working in our sweatpants, we were all eager to see the official reveal. Some of the new and exciting additions include:
More leaderboards: At Versature, we use Insights to harness every single piece of data that we generate through our phone calls. From our Tech Support's average answer speed to our Sales Development Representatives' number of calls made, our leaderboards allow us to stay transparent and showcase top performers from each team. With this renovation, we added several new screens to display even more metrics and KPIs!
Standing desks: we are thrilled with our new modern, sleek, and ergonomic furniture. We added multiple standing desks to the office layout which are proven to boost productivity and increase energy levels. We still have several vacant desks available just waiting for an awesome person to make it their home. Check out our Careers page to see our open opportunities!
New games: We have a new addition to our games room! The arcade table has been an exciting attraction and our Provisioning team has been busy beating each other's scores on old-school games like Ms. Pac-Man and Donkey Kong!
Check out our Extreme Makeover Office Edition Video to see Before & After footage of the transformation and to take a quick tour of our new office space!
Be prepared for your next office move or renovation with Versature's comprehensive Ultimate Moving Checklist. Download today!