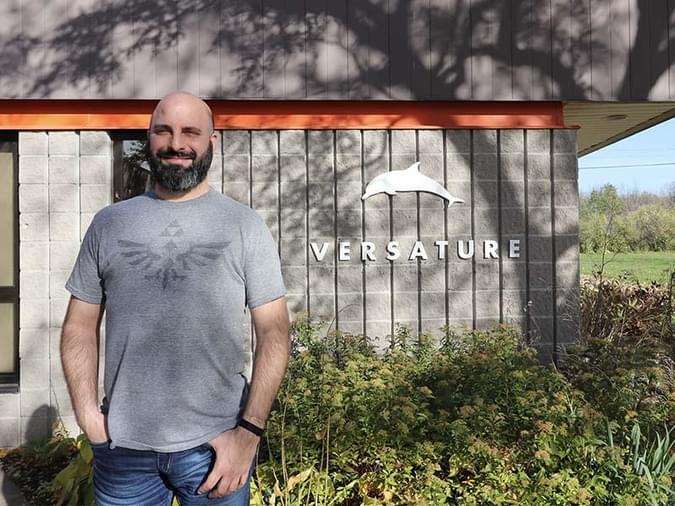 My First
90

Days at net

2

phone Canada: Adrian

Core Infrastructure Manager Adrian Daminato talks about the transition to net2phone Canada, and what his first 90 days were like working for one of Canada's top tech companies
Wow, has it already been 90 days since I stepped into the Core Infrastructure Manager role at net2phone Canada?
I'll be honest. When Lauren, our head of People Operations, first reached out to me about the open position, I was hesitant. I had been working for a wonderful company for over 10 years and adored my job. However, I was encouraged by my team and family to go in for an interview. I thought at the very least that it would be a great learning opportunity.
First impressions
When I first stepped into the net2phone Canada headquarters I was immediately taken aback by the office culture. In my short walk from the front door to the meeting room where my interview was being held, I got smothered by puppy cuddles, overheard the sound of a victory coming from the foosball room, and was greeted with the genuine smiles of everyone who I encountered. In my brief conversations with the executive team, it was clear to me that everyone in the office has so much pride in net2phone Canada and their customer success philosophy and that managers really recognize the value of every member of the team. It wasn't an easy decision to leave my previous workplace, but even from these short interactions, I knew it was going to be the right decision for me.
90 days in...
To say my first 90 days have been a whirlwind would be an understatement. Since my first day, I have learned a ton about new application technology, our team has expanded with the addition of several new members, and net2phone Canada was acquired by net2phone. I've been challenged in so many ways, from learning everyone's name (which I have never been good at), to honing in on my foosball skills, to adapting to new technologies. When asked about my favourite thing about net2phone Canada, my answer is hands-down the people. Every department from marketing, to tech support, to the executive team, works cohesively with one another to develop new ideas and bring them to fruition. Every day I walk into the office knowing that I'll be challenged, I'll be collaborating with people who are investing in my personal development, and that I'm working for a company that I am truly proud of.
What's next?
While I'm still getting a feel for my role and learning more and more every day, I am very much looking forward to everything that is about to come. I came into net2phone Canada at a time of rapid expansion; we're investing significantly in innovation and new technologies, our team is growing faster than ever before, and we're launching exciting products. In the future, I'm looking forward to tinkering with new machine learning technologies, growing the core infrastructure team, and kicking butt in net2phone Canada's 2018 foosball tournament.
We're hiring! If you're interested in joining our team, check out our open positions on our Careers page!